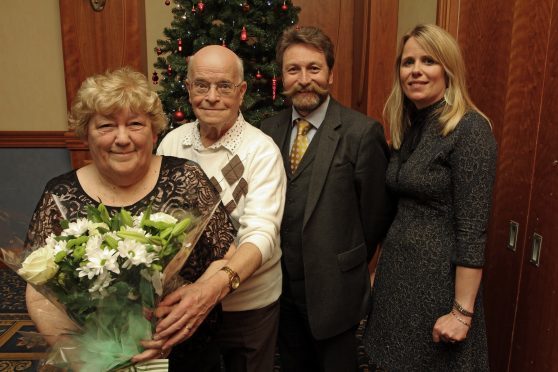 An Angus couple have retired from fostering after 24 years.
Sheena and Allan Thomson from Carnoustie said the experience has been hugely rewarding and urged others to follow in their footsteps.
Many of the children they have looked after still keep in touch with the couple and are regular visitors to their Carnoustie home. They even babysit for one of their grown-up foster children who now has her own family.
The impact the couple have had was recognised at the Angus Council fostering and adoption team's annual Christmas lunch at Carnoustie Golf Hotel.
More than 50 foster carers were in attendance at the event which is held as a thank you for the support foster carers in Angus offer local children.
Mr Thomson said: "It's been a hugely rewarding experience over the past 24 years and we still see two or three of the kids at our home.
"There is one girl in particular who we had for 12 years. She has now got a partner and a family of her own and we sometimes babysit her child, which is lovely."
The couple, who have two daughters, three grandchildren and two great-grandchildren began fostering after their own children left home.
Mrs Thomson, who was a childminder, was asked to take up fostering by the council's social work department during a recruitment campaign.
She said: "I was quite keen to do it and after we finished our training we got our first child within a month.
"Over the years we have looked after children from babies to teenagers – children who have returned home, moved into adoptive placements or are now making a way for themselves as young adults.
"There has never been a dull moment and the house has always been busy. We are both retired and have now decided that the kids need younger carers.
"But we couldn't recommend fostering enough – it's been hugely fulfilling and rewarding."
Mr Thomson will continue as a volunteer driver to support service users.
Eunice McLennan, area manager for children services at Angus Council, said: "Sheena and Alan have had a hugely positive impact on the lives of many children and young people in Angus since they first started fostering in 1993.
"They will be sorely missed by the team at Angus Council and the wider fostering community and we wish them all the very best for their very well deserved retirement."