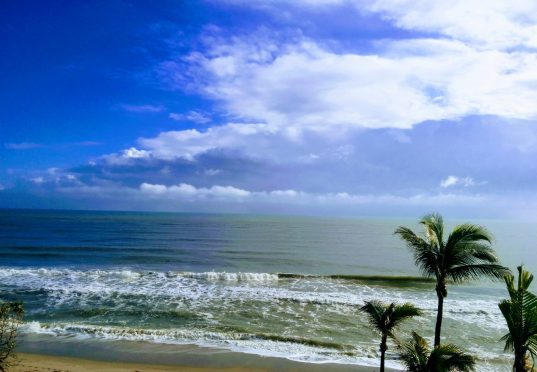 A message in a bottle thrown into the sea in Arbroath more than 30 years ago has washed up in Florida.
Fiona Cargill's primary 2/3 class in Forfar wrote the undated letter for a school project on pirates in the 1980s.
Mrs Cargill, who retired from teaching 18 months ago, gave it to a fisherman in Arbroath and he threw it into the North Sea.
The paper used for the letter was wrapped in transpaseal to prevent water damage while it travelled at sea.
The note read: "We are learning all about pirates. We would like to see how far this message goes. Please write and tell us where you found this bottle".
It was signed by Class 2/3, Chapelpark School, Forfar, Angus, Scotland.
The bottle was found against a chain link fence 500 feet from the Atlantic Ocean by American couple Ruth and Lee Huenniger while they were inspecting street lights in the aftermath of Hurricane Irma in September.
Mrs Cargill, 60, from Newtyle said she would use pirates to strengthen a variety of skills and keep pupils aged around seven interested.
She said: "It's amazing. I'm sure that it was one of my primary 2/3 classes from the 1980s.
"I liked to teach a project on pirates because it helped develop a lot of different skills.
"One part of that would involve getting in groups, writing a letter and sending a message in a bottle out to sea and seeing if it ever came back.
"I believe it is one class of primary 2/3 in particular because one of the children was related to a trawlerman in Arbroath who would take the bottle in their boat and throw it a bit further out so that it was less likely to just wash back ashore.
"Unfortunately, I haven't been able to find the pupil who wrote the letter but looking back there's an error where they meant to write 'street' which I found quite amusing.
"Stupidly, I forgot to get them to date the letter which really would have helped in narrowing it down."
Mr Huenniger could not get the top off of it and was going to put in the recycle bin but decided to cut it open.
The couple wrote back to the school from Florida and it was several weeks before they received a response.
Chapelpark Primary School closed in 2008 and is now an apartment building.
The postman who was given the letter for his route knew this and delivered it to the town's new school, Whitehills Primary.
Staff investigated and discovered it was Mrs Cargill's class and sent the letter on.