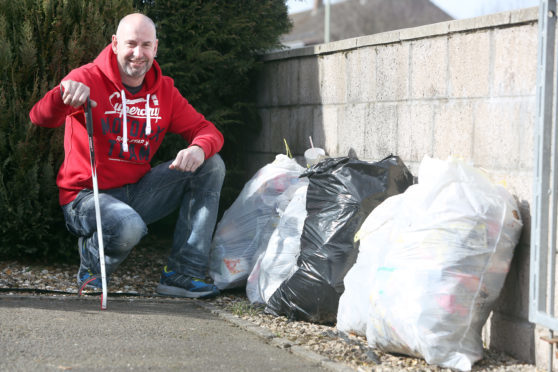 A community-spirited Angus dad and daughter are leading an effort to keep litter off their village streets and urging other locals to "do their bit".
David Patterson of Kingsmuir volunteered to take part in the Angus Council Adopt-a-Street scheme and filled six bin bags of rubbish in just three mornings on the busy road through the village on the outskirts of Forfar.
The council scheme provides equipment such as a litter picker to volunteers, who then specify an area they are going to tend.
Mr Patterson, who recently moved to the area from Carnoustie, said: "I went out litter picking with my daughter, and in just three morning sessions filled six bin bags full of rubbish.
"I feel passionately about my local environment, so it really is horrific to see the amount of litter at the side of the road.
"Drivers also seem to be stopping with food in the nearby laybys, and just tossing the rubbish out of their windows when they are finished.
"It certainly doesn't help that there are no bins in the laybys, and that is, perhaps, something the council could look at providing, but there is no guarantee that people would use them.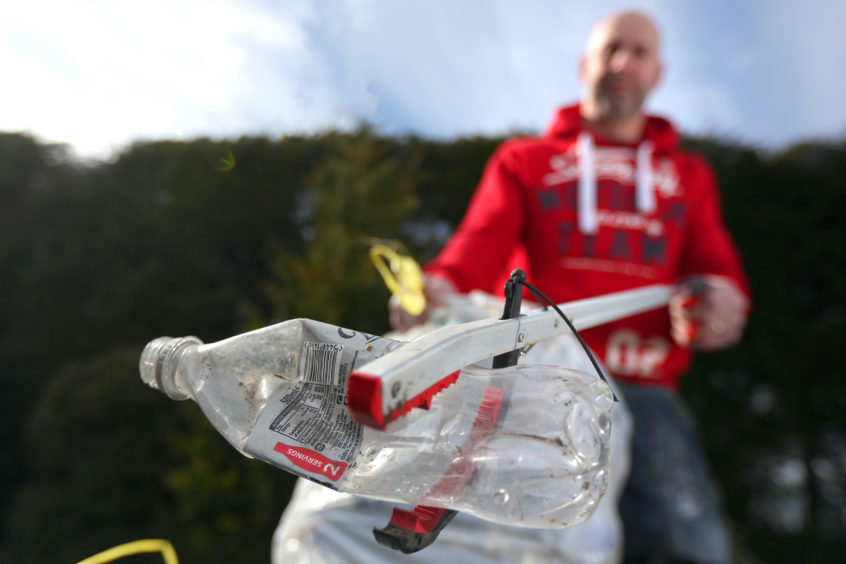 "The amount of drink cans, plastic waste and polystyrene food containers being thrown out of cars is just incredible, and so unsightly.
"I have also come across a number of sharp objects and broken glass, which I'm concerned that my labrador could cut himself on when we are out walking.
"I would thoroughly encourage people to litter pick on their own patch if they possibly can. It creates a better environment for people who live in the area and a more welcoming environment for visitors."
According to Angus Council, the Adopt-A-Street scheme has proved to be very popular since its launch late last year, with more litter picking equipment on order to meet demand.
So far, more than thirty streets across the county have been signed up by residents for the cleaning initiative.
Forfar and District SNP councillor Lynne Devine said: "I would like to congratulate Mr Patterson on his excellent effort, and I hope others are encouraged to take part too.
" I have already written to three local schools highlighting the scheme, and I hope they will consider joining in.
"Of course, there are other ways people can play their part, such as shops using less packaging, take-away vendors giving out wooden forks instead of plastic ones, and encouraging their suppliers to use less packaging such as plastic wrapping and polystyrene."
Details of the Adopt-a-Street scheme can be found on Angus Council's website.