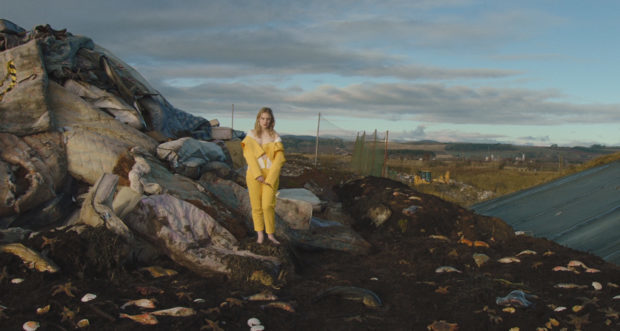 A landfill site on the outskirts of Forfar has once again taken centre stage in the fashion world, this time in a video by a leading film director whose latest masterpiece was shown at the Milan Fashion Show.
Following hot in the footsteps of top British fashion designer Stella McCartney, who used the Restenneth site for a photo shoot last summer, renowned film-director Elena Petitti di Roreto arrived with a full  crew to shoot "Allegory of Water" for Vogue Italia.
The thought-provoking end product was shown at 'The Next Green Talents' exclusive party dedicated to the new generation of international fashion design at the Palazzo Morando during the recent Milan Fashion Show.
It celebrated the scouting project established in 2011 from the collaboration of Vogue Italia and Yoox, a bond that has been constantly renewed and this year turned the spotlight on ethical values and a more considerate approach to consumerism.
The video features model Julia Campbell-Gillies standing on the landfill site next to a pile of discarded mattresses, as a digger works in the background near "Forfair".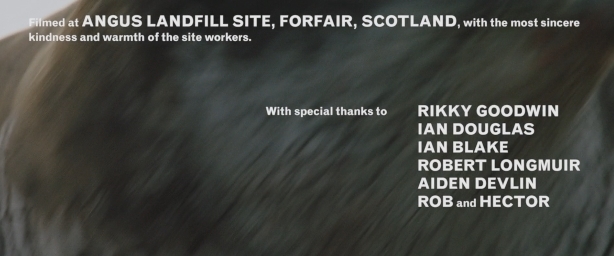 Speaking to Vogue Italia Elena said: "When approaching this complex and extremely current theme, the first feeling that came to my mind was the fear, each day more possible, to lose the richness and beauty of the oceans.
"Fashion, as well as most of the Western art, has always had as its main focus the representation and expression of beauty and grace and it is through this language that I decided to approach this theme.
"The allegories of the earth have been one of the most important topoi of classical paintings.
VIDEO: Stella McCartney models strut their stuff at a landfill site in Angus
"Goddesses were portrayed in flourishing landscapes surrounded by symbolic objects, to represent the richness and importance of the natural elements.
"Taking inspiration by the Allegory of Water (in particular the one by Brueghel and van Balen) I was imagining how could it be if it were re-enacted today.
"What would we have as landscape and what would represent the current status of the Earth's waters?
"Willing to be provocative, I recreated a painting-like composition based on the canons and aesthetic of Flemish painting, but in a current landscape: a landfill (Angus landfill site in Scotland), and with symbolic elements that represent the current status of waters: dead fish and plastic waste."
The "kindness and warmth" of the Angus Council workers is praised among the credits with "special thanks going to Rikky Goodwin, Ian Douglas, Ian Blake, Robert Longmuir, Aiden Devlin,  Rob and Hector".
Elena studied media design and received her BA and MA at the New Academy of Fine Arts in Milan.
She then did film studies at the Pratt Institute in New York before going on to study creative direction at the London College of Fashion.
Her selected clients include Hugo Boss, Mulberry, Rayban, Valentino and Versace.
Ths is no April Fool. First @StellaMcCartney now @VogueIta . @AngusCouncil Restenneth Landfill and staff are in demand! Watch "VOGUE ITALIA | ALLEGORY OF WATER" on #Vimeo https://t.co/lSMjOib79t

— Alison Smith (@allyjsmith) April 1, 2018
Welcoming the news, Angus Council's strategic director, Alan McKeown, said: "It's great to be 'in vogue'.
"The team at Restenneth are very cosmopolitan and did a fantastic job to help with this new fashion campaign.
"It's no catwalk working to manage waste. We're delighted to welcome the fashion industry to our model site and their desire to use an Angus location.
"The latest fashion shoot focuses on encouraging people not to throw things away so readily and to love things longer.
"As a council that, thanks to its residents, is one of the best recycling authorities in Scotland, we continue to promote the message of reduce, reuse, recycle.
"We are currently promoting the Right Stuff Right Bin campaign as presently up to 50% of the household refuse could be recycled, reducing costs of recycling and reducing the impact on our environment. We are delighted to support partners who share this goal."
Angus Council's economic development head, Alison Smith, said: "There must be a scent of desirable fashion here in Angus.
"It's fantastic to see the county on the fashion, and world-wide, map again. Thanks once again to Tay Screen and the Angus Council staff for help make this happen."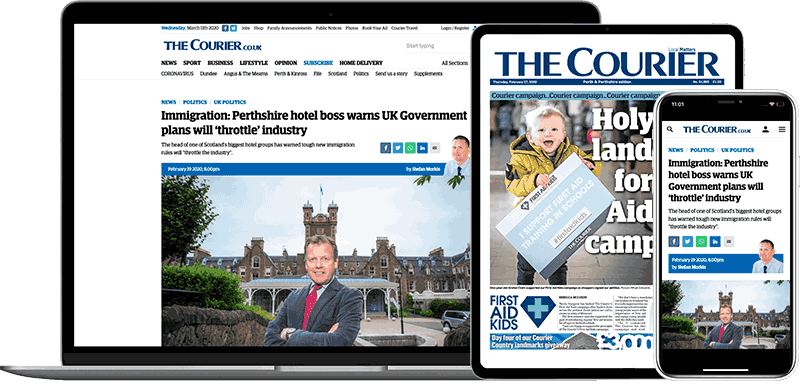 Help support quality local journalism … become a digital subscriber to The Courier
For as little as £5.99 a month you can access all of our content, including Premium articles.
Subscribe