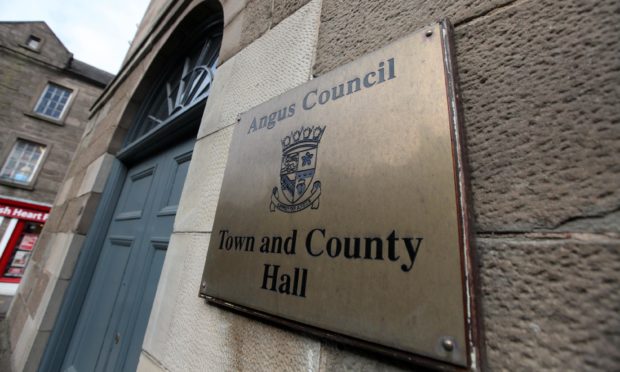 U-turn Arbroath councillor David Fairweather has emerged as the front runner for the Angus hotseat as an increasingly bitter war of words sweeps through the chamber.
Less than four months after his shock return to the ruling coalition,  the one-time administration number two has confirmed he will be bidding to succeed Brechin and Edzell member Bob Myles – ousted last week after a vote of no confidence in a "stormy" closed doors showdown.
Mr Fairweather – who previously walked away from the rainbow group after saying it had "fallen at the first hurdle" in the "bungled" handling of the Angus skip sites shake-up –  has risen to the defence of the deposed leader with criticism of opponents for what he claimed were cowardly attacks on Mr Myles.
Enraged Mr Myles claims he is the victim of a personal vendetta and has fought off criticism of his remaining in the administration's highest paid role until next month in the face of the no confidence vote.
Mr Fairweather said: "Cowardly attacks from some non-administration members are demeaning their role as public elected servants.
"I find it shameful that certain members from Carnoustie and other burghs continue with distasteful and derogatory comments about the present administration and its current leader.
"Elected members showing respect to others is a key role for them in the public domain and it is about time we all stood back from our spats and name-calling, and got on with the job we were elected to perform.
"Councillor Myles has given undivided attention to this council over the six years he has been leader."
Carnoustie independent councillor Brian Boyd, who has called for a new leader to be put in place "sooner rather than later" said: "What I have said on this topic is neither distasteful or derogatory to the administration.
"I am on record as stating that the new leader must come with new, fresh ideas and I will lend my support to positive constructive projects that benefit Angus, so this is far from being cowardly.
"He (Mr Myles) should do the honourable thing and step aside immediately for the benefit of the administration and more importantly the residents of Angus," said Mr Boyd.
"Taking another couple of months' salary from the highest paid role in the administration, coupled with staying on to the get all the jollies that the Carnoustie Open will bring is simply unacceptable."
Carnoustie independent councillor David Cheape also waded into the feud, saying: "I'm somewhat surprised that Councillor Fairweather appears to tar everyone who is not a member of the Angus administration with the same brush.
"Whilst I and others will criticise where criticism is rightly due, it is in fact Cllr Fairweather and his fellow members of this increasingly disjointed administration who chose to depose their leader.
"Despite taking this extreme action they appear content for him to carry on in situ for the next few month. How utterly ridiculous.
"It clearly shows there appears a lack of any serious worthwhile leadership on the administration.
"Too often it looks to others that this administration consists of a number of members who have just had their day, hardly say a word in the chamber and will do anything for a quiet life."