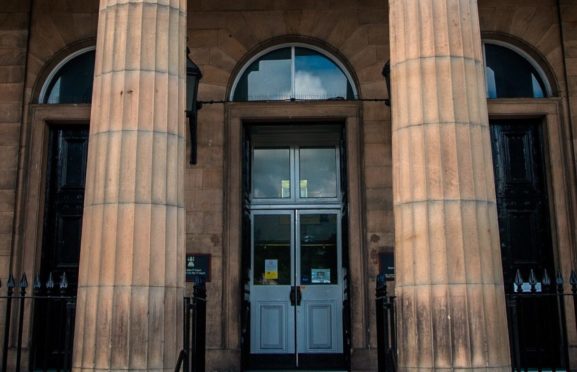 A sheriff has expressed her disdain at the time it has taken to begin the trial of a chemical company which allegedly left 50,000 Perthshire residents without water.
Andrew Bailie, operations manager at the now defunct Digestate Management Services Ltd, is accused of causing a pollution incident so serious it forced Scottish Water to shut down the supply to tens of thousands of homes in September 2015.
The alleged chemical spill on farmland near Bankfoot was so severe it reportedly killed fish and wildlife and caused a large scale halt on the surrounding water supply, affecting Perth Royal Infirmary, Perth Prison and the local farming and food industries.
On Friday the trial was pushed back once again, having called previously in January this year – much to the annoyance of Sheriff Gillian Wade.
It is understood to be one of the longest running summary complaint cases in Scottish legal history.
Defence brief Pauline Cullerton, acting on behalf of Freelands solicitors who are representing Bailie and the liquidated company, which was based in Lanarkshire, said there had been difficulty obtaining "crucial settlements" and had requested a further notional diet.
The hearing — an opportunity for interested parties to debate issues with witnesses or evidence before more formal criminal proceedings  – had been scheduled to occur on Friday.
Sheriff Wade refused to grant the continuation, instead setting dates for trial and intermediate diet – effectively moving proceedings forwards.
She said: "This has been going on for some time now, these are offences which date back to 2015.
"I cannot understand why there are still disclosure issues at this juncture.
"I want early intermediate diet and trial dates set.
"Unless there are extreme circumstances then that trial diet should be achieved."
Bailie, of Hyndfor Bridge, Lanark and Digestate Management Services Ltd are alleged to have allowed fertiliser to enter the Ordie Burn and an unnamed tributary of the nearby Wynnie Burn while spreading in September 2015.
Both 37-year-old Bailie, also of Lanark, and Digestate Management Services deny the allegations.
The charge states that between September 21-23 at Little Tulliebelton Farm, near Bankfoot, they caused serious environmental harm by discharging fertiliser while spreading.
It is further alleged that on the same dates they discharged an "anaerobic digestate" into the burns on three occasions without authority.
The trial has been set for June 19, with an intermediate diet scheduled for May 31.