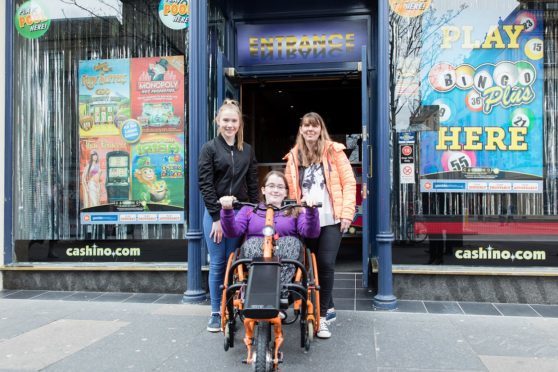 A Kirriemuir youngster who has been capped for Scotland at wheelchair basketball has been given a "new sense of freedom" in the shape of a new chair.
Murran Mackie has Spina Bifida and Hydrocephalus but has never let it hold her back and has excelled at all kinds of sporting endeavours, thanks to her specialist powered chair.
However, the 15-year-old has been relying on a traditional manual chair for day to day activities, meaning she has been restricted in the places she can go and things she can do.
She has now been given a new powered wheelchair by CHIPS, a charity set up on behalf of the casino and gaming industry which raises funds to purchase equipment for children with severe mobility problems.
The money was raised by customers and staff at the Cashino amusement centre in Dundee.
Murran's mum Loraine said the device was already transforming her daughter's quality of life.
"We had been looking at power-packs for some time, but at almost £4,000, it was simply out of our reach," she said.
"It really has made an amazing difference, as it can provide power for up to 14 miles.
"As a family we really enjoy the outdoor life, but due to Murran having a manual wheelchair for daily use, we often find it difficult to push her when going on long walks.
"The new pack means that we can go to more places and stay for longer too, as Murran is not having to continuously push the chair herself, she can conserve her energy and enjoy herself more – although instead of us slowing down for Murran, it's now the other way round."
Murran, who is paralysed from the waist down, is a keen wheelchair racer and plays wheelchair basketball every Saturday.
She also takes part in endurance events, including the children's Great Scottish Run, and is currently hoping to set some new personal bests this season.
CHIPS co-founder Linda Lindsay said the charity had provided more than 150 powered wheelchairs up and down the country.
"It is so important for CHIPS that our donors see the results of their hard work, and we try to ensure that all the recipients are local to where the funds have been raised," she said.
Cashino Dundee venue manager, James Grant, said: "It's so rewarding to know that our fundraising efforts are going to make such a huge difference to Murran and her family's life.
"She is such a lovely, friendly girl who thoroughly deserves this wheelchair."