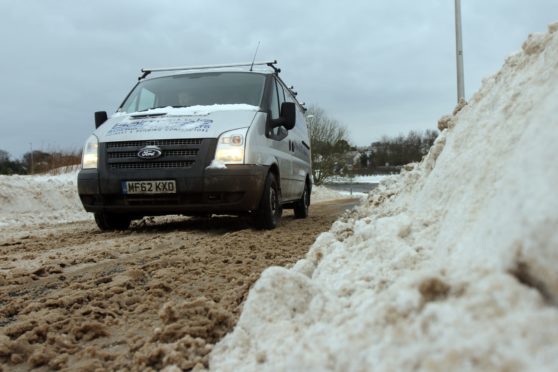 The 'beast from the east' brought out the best in people, with Angus councillors praising those who literally dug deep to deal with the icy blasts.
Member of the local authority's communities committee were asked to note a winter maintenance activity review compiled by Ian Cochrane, head of infrastructure, when they met in Forfar.
He described the winter as "one of the most severe in recent times".
Sub-zero temperatures during the earlier parts of the season were followed by heavy snowfalls.
He said: "A prolonged period of snow was experienced in late February, early March known as the beast from the east with snow continuing into early April extending the season."
The net budget for winter maintenance was set for 2017/18 at £2,700,000.
The unaudited out turn expenditure figures indicated a total cost of £3,519,232.
As previously reported, when compared with the 2017/18 revenue budget allocation for winter maintenance of £2,700,000, an overspend of £819,232 has resulted subject to finalising costs including salt stock reconciliation.
Noting the report, Kenny Brae, SNP councillor for Brechin and Edzell, praised all those who were involved in dealing with the beast from the east.
He said: "I would like to pay tribute to all council staff, Tayside Contracts staff and the farming community who put the shoulder to the wheel to help at a very difficult time.
"The community resilience of Angus was tested and the response was magnificent."
"It was a credit to the council and the county."
He noted the council's footway gritting capacity was to be reduced, warning this would impact on rural communities, especially those which provided pharmacy and medical services.
He asked for assurances villages would still get the council's full support.
Communities vice-convener, Arbroath East and Lunan councillor Lois Speed, also praised the "community resilience" demonstrated during the winter.
She said: "It was incredible to see what good work can be done when communities come together."
Kirriemuir and Dean Conservative councillor Ronnie Proctor stated the Angus roads maintenance programme was "leaps ahead" of its neighbours.
He spoke of the importance of keeping rural roads clear, especially those leading to the Angus glens.
He said: "The roads up to the glens are not just for the benefit of the people who live there, but people who go walking in glens Prosen, Clova and Esk.
"They benefit the local communities , hotels and bed and breakfast businesses."