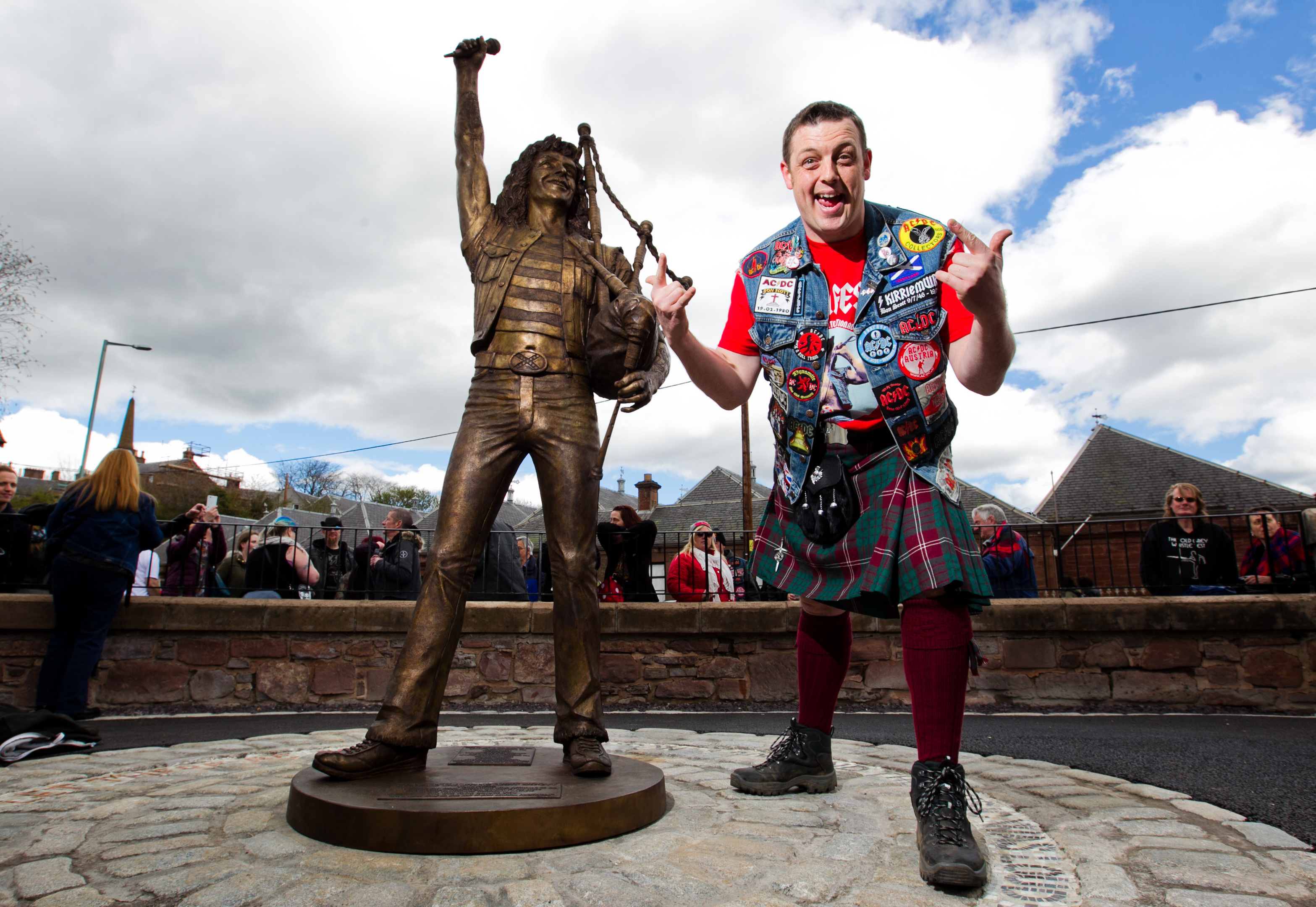 The Bon Scott statue in Kirriemuir has been chosen as one of Britain's aerial landmarks for a new documentary in the USA.
Irish production company Tile Films will shoot footage from above the statue on Saturday featuring AC/DC fans wearing devil horns.
The documentary Aerial Britain is being made for the Smithsonian Channel which features original non-fiction programming that covers a wide range of historical, scientific and cultural subjects.
The network's content is inspired by the Smithsonian Institution which is the world's largest museum and research complex.
Bonfest chairman John Crawford said: "I am working with an Irish production company called Tile Films.
"They are making a documentary for a channel called Smithsonian called Aerial Britain.
"They will use a drone to film landmarks around the UK and the Bon Scott statue has been chosen as one of those landmarks.
"I am currently trying to get fans to attend the filming to enhance the filming production.
"Are you an AC/DC fan?
"Would you like to be in the production?
"If you are free on Saturday at 5pm please come to the Bon Scott statue wearing AC/DC clothing including horns if you have some."
A life-sized statue of Bon Scott was unveiled in 2016 during the annual festival held in his honour in Kirriemuir.
The bronze statue was the result of a two-year crowdfunding campaign which drew global support and raised £50,000.
It depicts the long-haired rocker in a sleeveless denim jacket and tight jeans, with one arm aloft and the other clutching bagpipes.
Mr Crawford said he was delighted that the statue was having so much impact on Kirriemuir and the surrounding area.
"This is the first request we've had of this kind, but we're getting more and more requests from photographers and from other projects," he said.
"Visitor numbers to the town are up, on the back of having the statue, as people will come in past Kirrie now to see it, whereas before they would have just driven past."
Tile Films previously shot the critically-acclaimed documentary Aerial Ireland which was a cross-country flight over its natural wonders and ancient ruins.
The documentary was originally directed and produced for the Smithsonian Channel USA by award-winning filmmaker Stephen Rooke of Tile Films.
Ronald Belford "Bon" Scott sang for AC/DC from 1974 until his death in 1980 aged 33.
Kirriemuir now hosts Bon Fest each year, drawing thousands of visitors to the town.