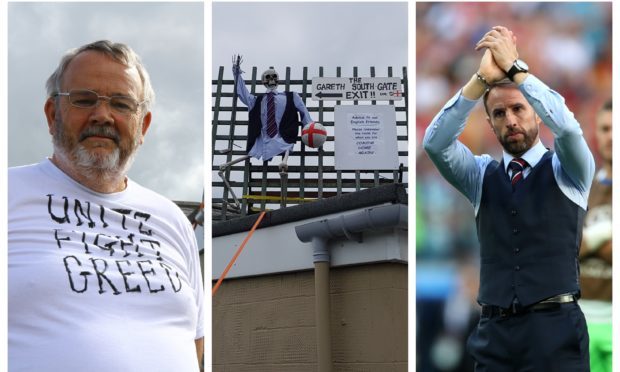 A Carnoustie man has been charged by police after erecting a Gareth Southgate effigy on his roof.
Kenneth Whyte, 57, dressed a model skeleton in a waistcoat similar to those sported by the England manager as he took the national team to the semi-finals in this year's World Cup.
The figure was placed on the roof of Mr Whyte's Barry Street home alongside signs directed at "our English friends" that read: "Please remember the route, for when you are coming home again."
He said officers visited his home on Sunday after receiving a complaint and then returned on Monday to take the skeleton away.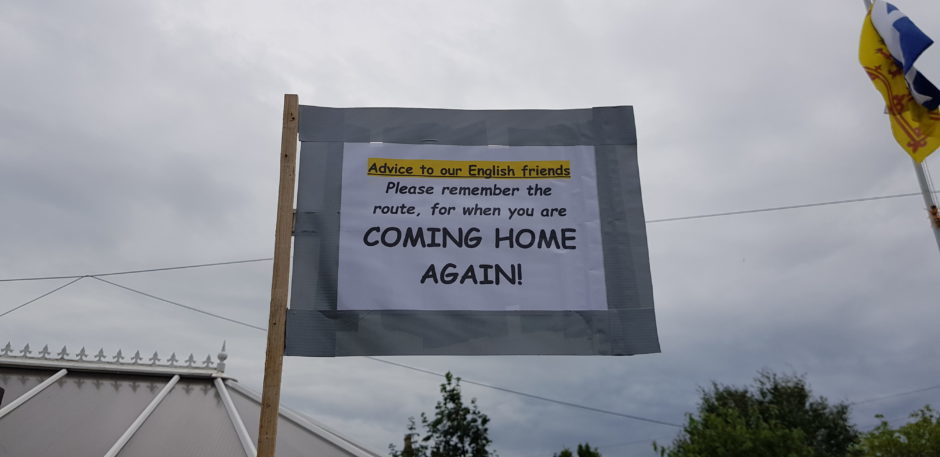 Mr Whtye said he was shocked when police returned on Tuesday morning to formally charge him with a breach of the peace offence.
The retired Carnoustie man insists the stunt was simply a prank that had got "out of hand".One of the signs Mr Whyte put up in his garden as a "joke".He said: "I put it up on Saturday as a joke. If what I have done is a criminal matter then people should be really worried.
"A couple of officers came by on Sunday to talk to me about it, but I kept it up and then on Sunday evening around eight officers came to the house and took it away.
"This wouldn't have happened if the Open wasn't taking place now. There will be thousands more people coming down the road and I thought the sign would be a memorable way for people to remember their way back and not get lost.
Gareth Southgate, manager of England."I'm old enough to have been around when England won in 1966 and we've never heard the end of it since then. It's just meant as a bit of banter between England and Scotland.
"The police told me they were taking the skeleton away for evidence, but haven't told me when they'll return it. I want my skeleton back."
A Police Scotland spokeswoman said: "We can confirm that a 57-year old man from the Carnoustie area has been charged and reported to the Procurator Fiscal in relation to an alleged breach of the peace incident following complaints from members of the public."
Inspector Alice Coventry said: "Following complaints from members of the public relating to a display in Carnoustie which caused offence, officers removed it on Monday July 16 and a man has now been charged.
"A report will be sent to the Procurator Fiscal in due course."
The force said it would not comment on how many police officers were involved in the operation.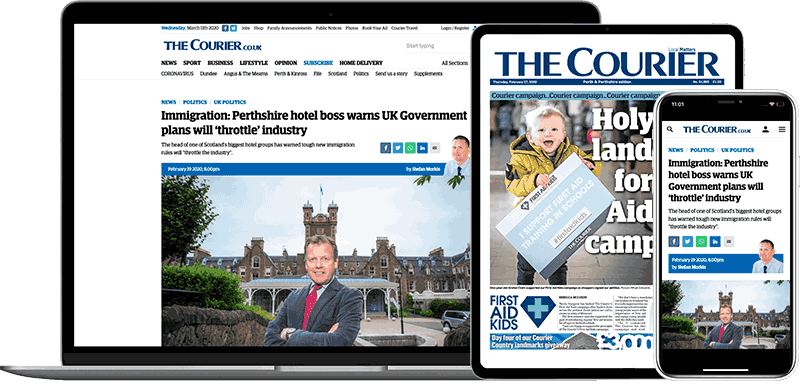 Help support quality local journalism … become a digital subscriber to The Courier
For as little as £5.99 a month you can access all of our content, including Premium articles.
Subscribe