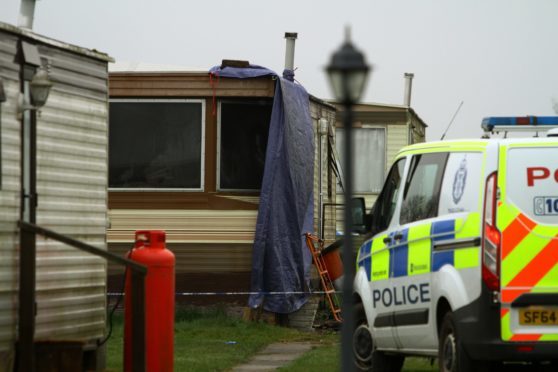 Safety advice has been issued at an Angus caravan park and risk assessments are being carried out across the district after a horrific fire which claimed the life of a pensioner.
The 81-year-old man perished in the blaze at the Woodley Caravan Park on the outskirts of Arbroath, despite desperate efforts to save him in the April tragedy.
An investigation found it likely the blaze was started by clothing being placed too close to a heater in the caravan.
The pensioner's death shocked the local community and prompted calls for an urgent tightening of safety regulations.
Scottish Fire and Rescue Service chiefs say risk assessments have now been conducted at similar sites.
The moves were reported to members of the Angus Council scrutiny and audit committee at its latest meeting in Forfar.
Fire service spokesman Steven Low said colleagues received a number of calls from residents on the site as the blaze took hold of the residential caravan.
He said: "Two fire appliances attended but, tragically, they found one adult male fatality.
"He was an elderly male who was living alone. The likely cause of the incident which caused the fire was accidental with clothing placed too near to a heater.
"There was a smoke detector and it did activate."
Crews from the Arbroath fire station made a series of visits to the Woodley site to offer home safety visits to the residents of each caravan, councillors were told.
A number of foreign workers employed at Angus farms were living on the site at the time.
Those who declined a visit were given fire safety information packs.
Mr Low continued: "About 50% of the residents took up the offer of a home safety visit, and we left leaflets with all the residents and with the owner of the site.
"It was well received."
A joint safety audit of the site was conducted with Angus Council environmental services.
Longer term community safety actions are being considered, including profiling the residents of residential caravan parks in Angus to identity those who may be vulnerable and at greater risk from fire.
Mr Low said: "A number of similar sites in Angus are being risk assessed and we will deal with this going forward."
In 2009, the Woodley site was the scene of another fire when an eastern European seasonal worker suffered severe burns to his legs and feet.
Another caravan fire on a site at Marywell claimed the life of a man in 2007.
Petr Adamik, a migrant worker, died from smoke inhalation after the blaze started in a refrigerator between two caravans.
New rules for sites were introduced by the local authority as a result.