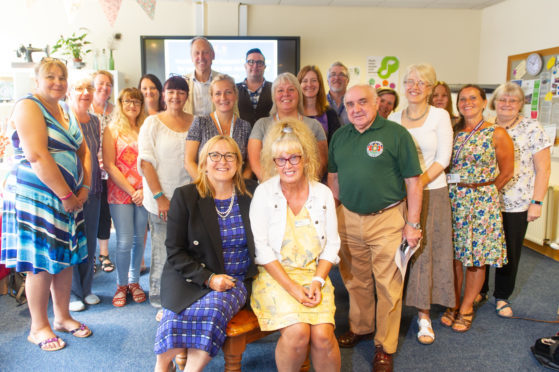 Angus is to feel the spin-off benefit of a near £600,000 National Lottery windfall for the University of Worcester to support people and families living with dementia across the UK.
The £587,000 of vital funding will lead to the creation of a network of meeting centres throughout the country – with Kirriemuir to be the first north of the border.
The Kirrie Connections dementia friendly hub recently welcomed leading figures from the project to get the ball rolling on the Angus part of the project and say they are delighted the initiative has secured such significant funding.
Kirrie Connections project manager Graham Galloway welcomed Professor Dawn Brooker and Dr Shirley Evans from the university to the first initiative group meeting in the Bank Street hub to see the assist with the local start of the scheme — which originated in the Netherlands — and showcase to them the wider work around dementia being done locally.
Mr Galloway said: "Kirrie Connections is delighted to be developing the first Scottish meeting centre and to be working with the University of Worcester in their national reference group as part of the UK-wide project."
The Dementia Friendly Kirriemuir Project was established in 2015 with funding from the Life Changes Trust.
It has gone on to develop a number of strands to offer help, support and advice to people in the local area who are living with dementia, as well as their families and carers.
Those have included development of a dementia-friendly garden, the recent creation of a memories mosaic as part of the seven-figure town centre CARS scheme and a sporting memories group.
Professor Dawn Brooker, director of the association for dementia studies at the University of Worcester who is leading the project, said: "This National Lottery funding will have a significant impact on many people's lives.
"The numbers of people affected by dementia continues to rise with little hope of an early cure.
"The aim is to help communities across the UK to establish meeting centres by providing people with a ready means of learning about the model, getting practical advice on how to establish a centre, training staff and supporters, finding funding and sustaining help and support for the longer term."
Meeting centres originated in the Netherlands and are a local resource, operating out of ordinary community buildings, offering warm and friendly expert support to people living at home with dementia.
"At the heart of each meeting centre is a social club where people can meet to have fun, talk to others, and get great help that focusses on what they need," said Professor Brooker.