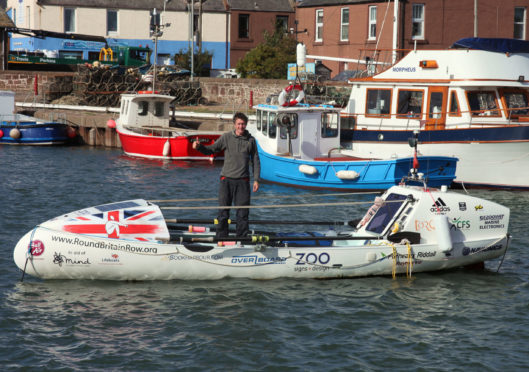 A pair of North Sea endurance adventurers are locked in a remarkable race into the record books off the coast of Courier Country.
Round Britain rower Andy Hodgson is now back on the oars after an unscheduled windy weather halt in Arbroath as the Surrey 36-year-old bids to be the first man to complete a solo circumnavigation of Britain in a rowing boat.
In an astonishing coincidence, he is now charting a course down the nation's east coast in the same direction as Ross Edgley, who is swimming the clockwise route and has already powered his way into history with his astonishing feat.
Andy has now been able to say goodbye to Arbroath and follow the Angus coast to a point close to East Haven, before heading across the mouth of the Tay and into Fife, passing Kingsbarns, Crail and Anstruther.
It meant a narrowing of the gap between Andy and Ross Edgley, who hasn't set foot on land  since stepping into the sea at Margate on June 1 to swim his way round Britain.
The 32-year-old has already covered more than 1,150 miles and exceeded the previous world record for the longest staged sea swim of 73 days, set in 1998.
He has had to use gaffer tape and two kilograms of Vaseline to combat wetsuit chafing and has grown a beard to defend himself against jellyfish stings during six hour stints in the water, and has racked up well in excess of one and a half million strokes.
Ross, who hopes to finish his challenge next month, received a special display by the Red Bull Matadors aerobatic display team while swimming the Moray Firth to mark 100 days in the water.