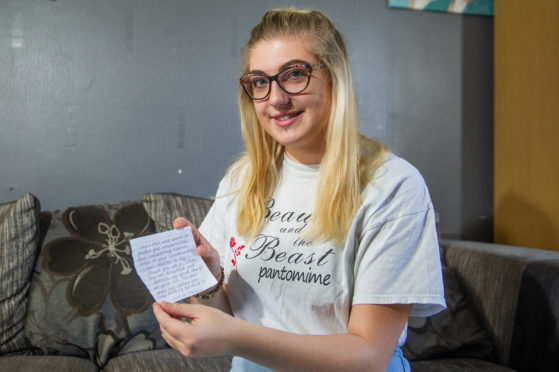 Thriller novel The Girl on the Train clocks in at 320 pages and became an international bestseller.
But an Arbroath student's heart was warmed by just one side of paper slipped into her bag by a fellow rail passenger who overheard her struggles with personal problems.
Courtney Robb, 17, was "opening up" to a fellow student about her anxiety and the challenges of embarking on a difficult course at Aberdeen college as she travelled home to Arbroath but didn't think the woman sitting with earphones in could hear the conversation.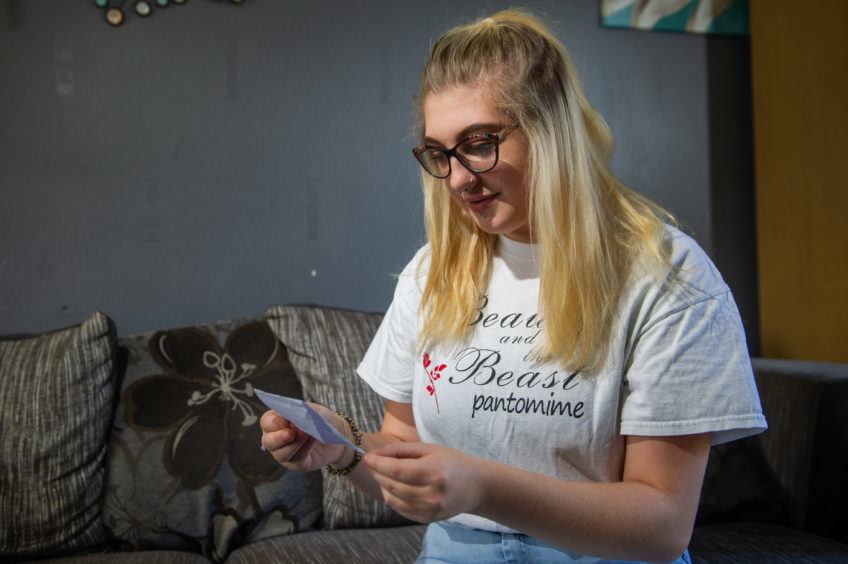 She said: "I'm in my second week of studying professional dance at the Aberdeen Academy of Performing Arts.
"I was chatting to a fellow student about things that have been going on.
"The course has been really difficult, and I had taken a day previously to decide if this is really what I wanted to do, and didn't really want to go in today.
"I had opened up about my anxiety, and don't really like travelling, so starting the course has been a challenge, especially as I have been the victim of a crime that meant I had to give a statement to the police.
"We were speaking really quietly, and a girl sitting across the table from us was wearing headphones, so I really didn't think she could hear us.
"But when I got off the train and got home, I found the note in my bag, and when I read it, I just wanted to cry.
"My bag had been sitting next to the girl on the seat, and she must have slipped the note in without me seeing.
"It was perfect timing, and I really want to find her and thank her personally for what she did.
"It is an amazing note and exactly what I needed and she deserves to know how thankful I am."
Unfortunately, Courtney has little recollection about what the girl looked like, but remembers she was in her early 20s with light brown, medium length hair.
The note said: "I hope this isn't weird or makes you uncomfortable, but I couldn't help hearing some of your conversation.
"I just wanted to say I think you are so strong you are beautiful and deserve all good things in your life.
"The past does not define you.
"Keep looking forward."
The note was simply signed "girl on train."
Are you the girl on the 1.08 train from Aberdeen to Edinburgh whose note helped brighten Courtney's day? Contact us at news@thecourier.co.uk