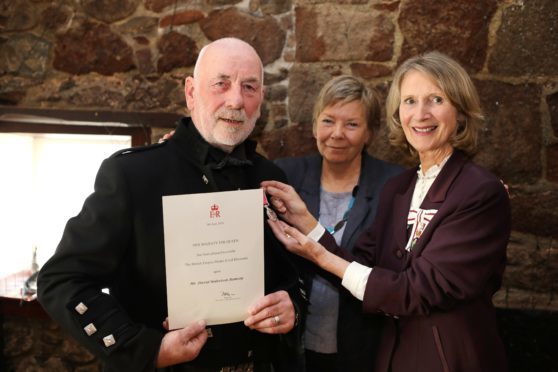 The Kincardineshire recipient of a Queen's birthday gong has dedicated the honour to the many people whose support has helped enrich a range of projects celebrating the area's diverse heritage.
At a ceremony in Catterline's Creel Inn, well-known figure Dave Ramsay was presented with the British Empire Medal he was awarded for services to heritage, special educational needs, charity and the community.
The Lord Lieutenant of Kincardineshire Carol Kinghorn made the award in the village pub on what Mr Ramsay described as a proud day for communities across the area.
Dave, 71, said: "I am tremendously honoured to have been nominated for this award, and wanted to take this opportunity to thank the huge number of people who have contributed to these projects, which have added to the rich heritage of the Mearns."
"There were a number of reasons why the Creel Inn was chosen as a venue for the occasion, not least the impressive heritage of the Inn, the conservation village itself, and the rich heritage of Catterline, the Mearns and Kincardineshire."
The historic hostelry has featured as a concert and recording venue for Mr Ramsay's projects and was also used as a film setting for a documentary about the Father of the Bard, William Burnes. Robert Burns' dad was born at Clochnahill, just outside Stonehaven.
It was also the location for an event earlier this year to mark the artistic and cultural contribution of local artist Joan Eardley, whose Catterline connection is now marked by a Historic Environment Scotland memorial plaque on the gable of the inn, which Dave successfully secured for the village.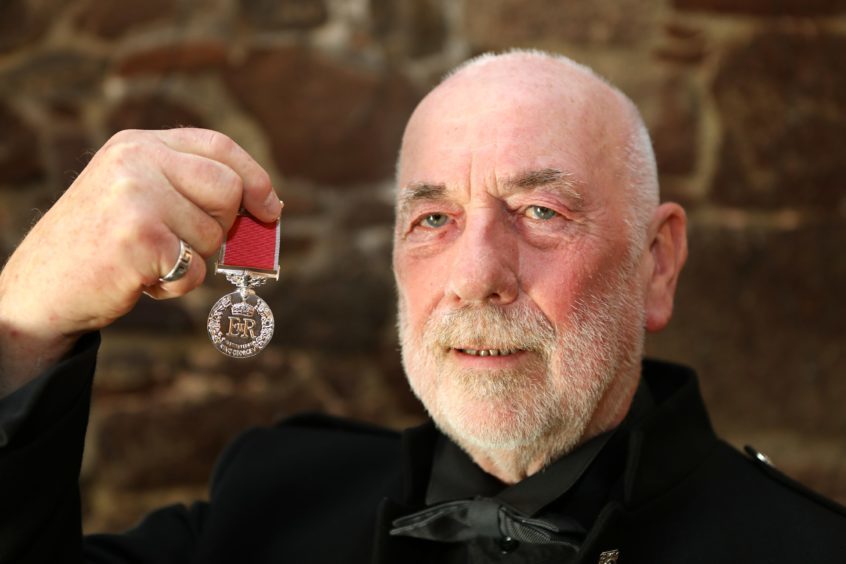 Nine local primary schools, Lathallan school, and Mearns and Mackie academies, have all been involved in initiatives led by Mr Ramsay, with more than 1,500 pupils contributing to 21 heritage projects.
He said they should be proud of all they had achieved.
"Over 1,000 sponsors, and 500 volunteers have contributed to these projects, which are now recorded and preserved for all time, through the skills of key specialists, teachers, parents, volunteers and pupils," he added.
The work has also been acknowledged by a succession of First Ministers and other political figures.
Dave said, "Without the hard work and enthusiasm of school staff, pupils, parents and volunteers, we could never have achieved what we have today, where we have taken our past rich heritage in Kincardineshire, combined it with present day technology, and laid it down for future generations."
"Whilst honoured by the award, I am deeply indebted to the many people, who assisted me in this important heritage work, and they should be recognised and acknowledged today, for their contribution to the rich rural and maritime heritage of Kincardineshire."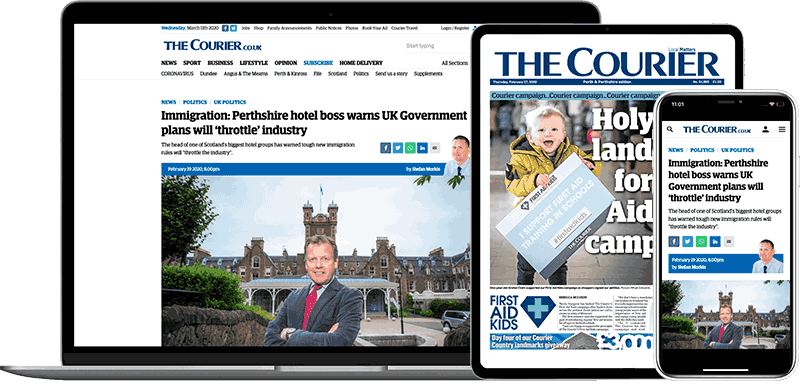 Help support quality local journalism … become a digital subscriber to The Courier
For as little as £5.99 a month you can access all of our content, including Premium articles.
Subscribe