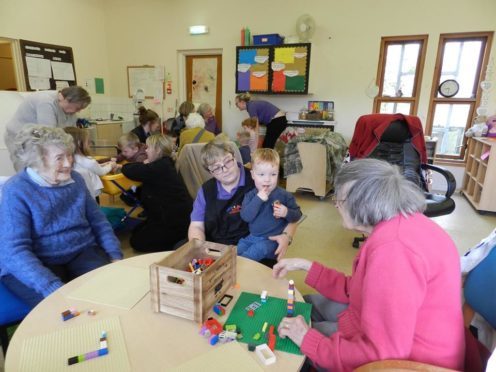 An innovative project spanning three generations is helping to tackle loneliness among the elderly on Tayside.
A link-up between children at Jack and Jill's Elite Nursery and service users at the Deirdre Knight Day Care Centre in Forfar is breaking down barriers across the ages.
In a project similar to that featured on "Old people's home for four year olds" currently being broadcast on Channel 4,  it is forging friendships between the under-fives and elderly people.
Kathleen Fotheringham, manager at the Lour Road centre, said the project was a way of creating a community link in the town which was already paying dividends.
She said: "It has been a great start and it's lovely to see the friendships developing between old and young.
"Our clients are really good with children. This is all very new but it is nice to see friendships developing.
"Some of our dementia clients really enjoy it. There is one lady who doesn't have much communication; to see the smile on her face when the kids come in is lovely.
"Children have no inhibitions, they are not scared and they mix better.
"A simple smile can mean a lot to someone who is lonely, or perhaps for someone who has grandchildren but, for whatever reason, doesn't see them very often.
"We have school visits and are invited to school concerts, but this is trying to get relationships going."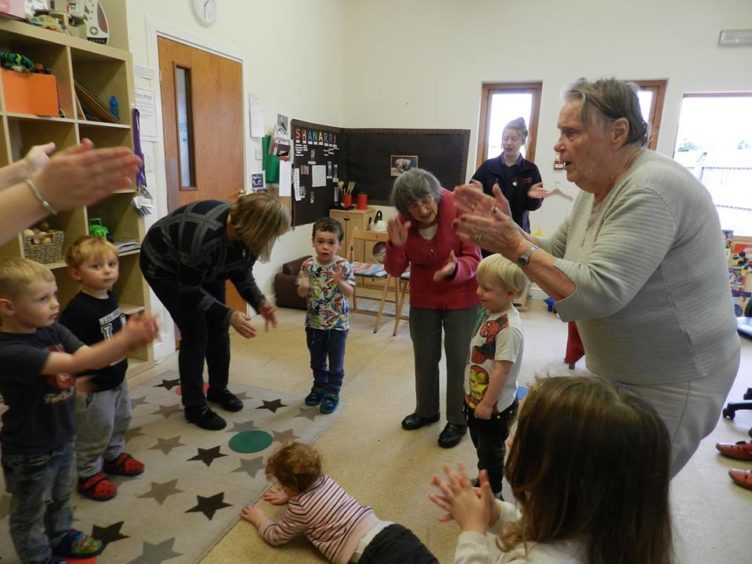 As well as welcoming the children to their centre, service users have also travelled across town for play sessions at Jack and Jill's Elite Nursery.
Michael Riddell, nursery manager, said: "The children really enjoy visiting the Deirdre Knight Centre and mixing with the elderly.
"So far they have taken part in puzzles, painting cards, music and dance.
"The children also invited the Deirdre Knight Centre to visit our nursery, and they took part in music and movement, building with Lego and drawing.
"The delight on both the children's and the service users' faces during the meetings says it all really."
The Forfar project's work in breaking down barriers has been praised by national charity Age Scotland.
Adam Stachura, head of policy and communications said: "We love hearing more stories of inter-generational care like Deirdre Knight Centre and Jack and Jill's Elite Nursery in Forfar.
"We know this type of support and care benefits people of all ages, especially as loneliness is a growing public health crisis which specifically affects older people.
"We've heard younger people benefit with daily positive interaction with older people, which can improve their communication skills with older people, tackle anxiety about ageing as well as providing new role models and mentor-ship."
He said inter-generational care and support services are an effective method to combat loneliness across all age groups.
Studies also show one day a week caring for grandchildren may prevent Alzheimer's by increasing brain function and memory.
He added: "As Scotland is ageing quicker than the rest of the country, creative solutions like inter-generational care are great opportunities to tackle public health issues and build more age inclusive communities."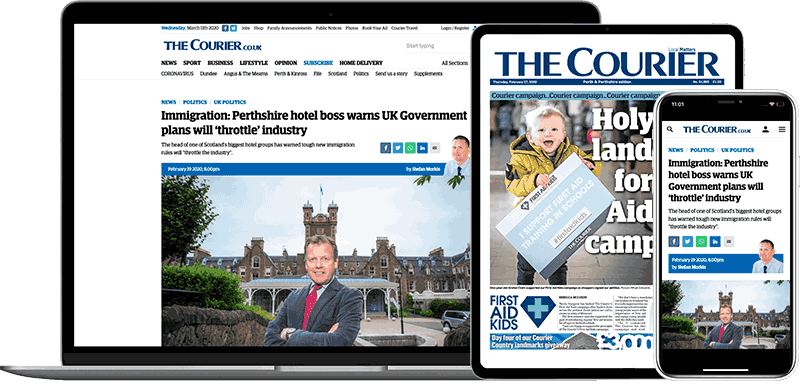 Help support quality local journalism … become a digital subscriber to The Courier
For as little as £5.99 a month you can access all of our content, including Premium articles.
Subscribe