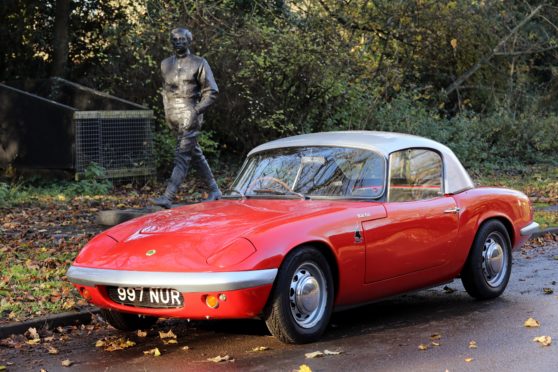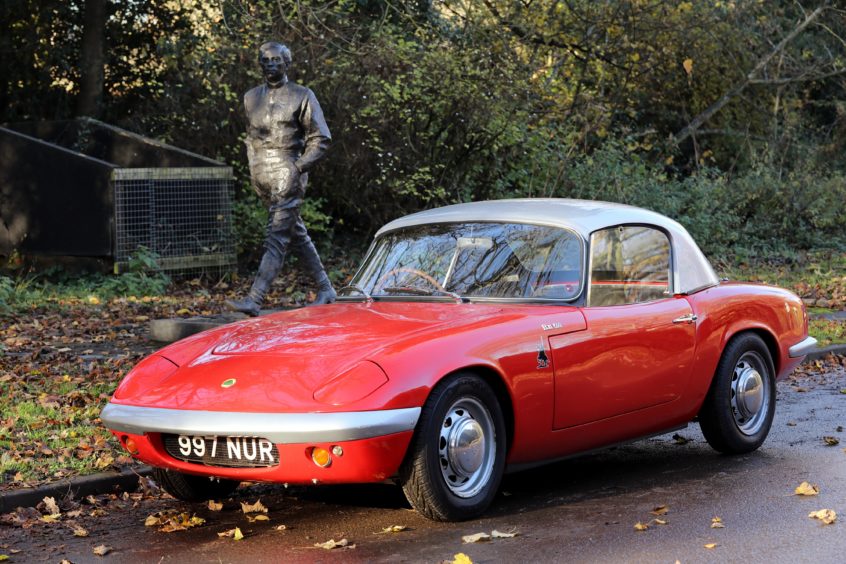 In the hands of a man regarded by many as the greatest racing driver the world has seen, the diminutive red sports car was a familiar sight on the twisty roads around his Borders farm in the early 1960s.
Before going on display in Angus, a Lotus Elan whose first owner was Jim Clark has made a poignant first pilgrimage to the Fife hamlet of Kilmany to sit alongside the birthplace memorial honouring the legendary two-time Formula One World Champion.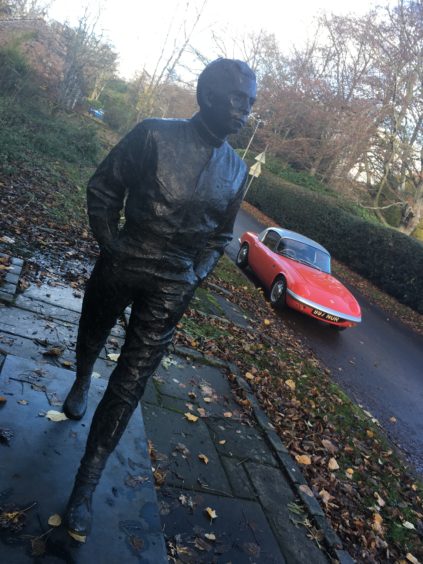 The famous car, given to Clark in 1962 by Lotus founder Colin Chapman, was the prototype example of a model which would go on to achieve cult status in light of its pioneering construction, exquisite handling and exceptional performance.
Over the best part of a year, Clark put 15,000 miles on the clock, many of them on the 1,558cc Lotus Twin Cam engine which still powers the pretty scarlet and silver car after he blew up the original 1,498cc powerplant.
It featured in the Lotus calendar of 1965 – the year of the racer's second F1 world title and victory in the famous Indianapolis 500 – with a kilted Clark sitting on the bonnet and the message: "I drive my Lotus Elan for pleasure – not because I have to."
From 72 Grand Prix starts, Clark amassed 25 wins and 33 pole positions – all at the wheel of a Lotus – in a career tragically cut short by a racing accident at Hockenheim, Germany in April 1968, aged just 32.
He was born at Kilmany and the life-sized bronze tribute to the racer in his overalls by sculptor David Annand was unveiled there in 1997.
Bearing its original 997 NUR registration, the Lotus Elan is now part of the personal collection of Kensington-based historic vehicle dealer Gregor Fisken and about to go on show at the long-established Forfar garage business founded by his parents Ian and Vivian, and now managed by brother, Dougal.
Standing 45 inches tall and just four and a half feet wide, the sporty two-seater is dwarfed by modern machinery, but possesses performance and dynamic capability belying its 56 years.
Dougal said: "The Lotus is a superb little car and great fun to drive.
"As Jim Clark's car, it is truly an iconic piece of Scottish motorsport history and we are honoured to be able to be able to put it on display in our showrooms from next Monday for enthusiasts to come and see."
Work is also  under way to expand the Jim Clark museum in the Borders town of Duns and the Fisken family hope the car will help spark extra support for that project, which includes a Lotus Cars competition to win the 100,000 the Lotus sports car built to raise money for the Jim Clark Trust.
997 NUR pays homage with fitting elan
Sliding into the cockpit of the tiny two-seater and laying hands on the thin-rimmed wooden steering wheel first held by Jim Clark was a moment as surreal as it was special.
Half a century on from his tragic and untimely death on the fifth lap of a race in the forests of Germany's Hockenheimring, Clark remains to many the pinnacle figure in the pantheon of motorsport greats and a Scot revered across the globe.
Today the double F1 world champion's legacy lives on in his adopted home town of Duns, where an expansion of the Jim Clark museum will allow some of the cars in which he shone to go on static show.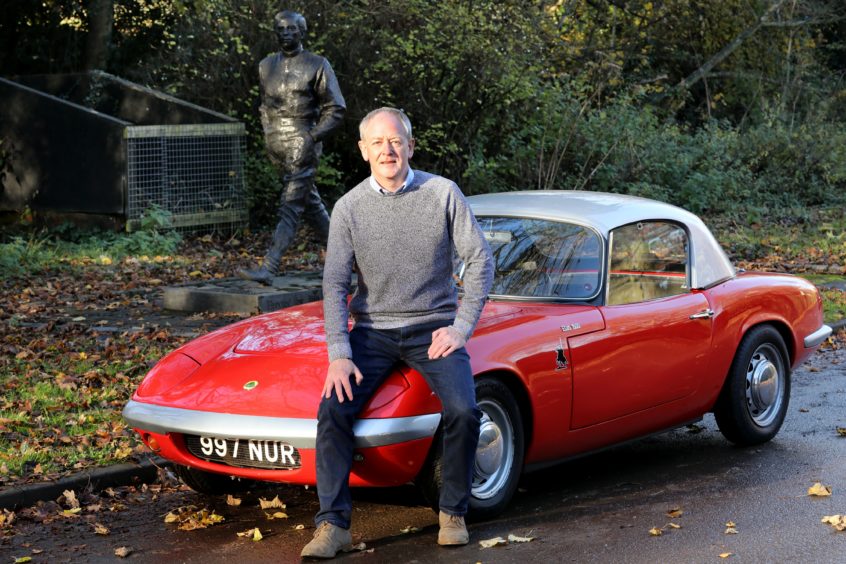 Clark and Lotus were names synonymous with each other and success, and to even cast an eye over those machines in their gleaming silence is a treat for anyone to whom he is a hero.
To be able to turn the key on the twin cam engine, head off on the winter sun-kissed twisty roads of the Lotus Elan's natural environment and take a priceless piece of Scottish motorsport history on its first journey to the Fife birthplace statue of Jimmy Clark was a viscerally thrilling privilege which will forever rank as my greatest ever road trip.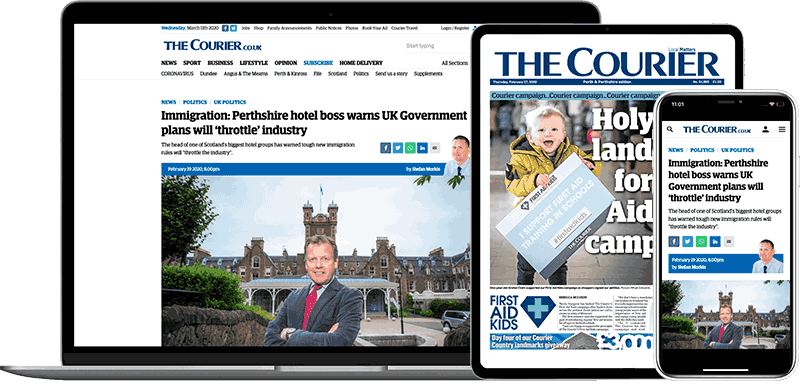 Help support quality local journalism … become a digital subscriber to The Courier
For as little as £5.99 a month you can access all of our content, including Premium articles.
Subscribe