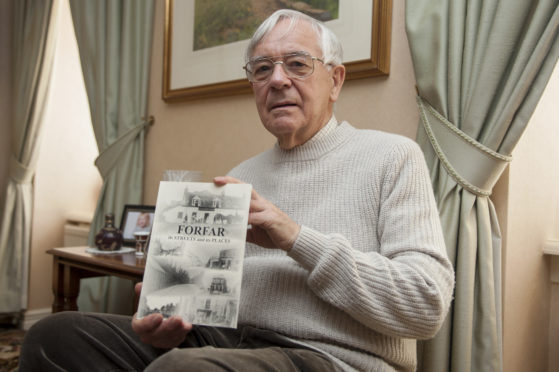 A Forfar historian has lamented the lack of knowledge of local history or heritage among those responsible for naming new streets.
In his introduction to the re-published book  "Forfar – Its Streets and Its Places", Alex Whyte suggests it would be better if recognition of place, function and history was applied when streets are named, instead of just "plucking labels which are inclined to mislead rather than promote an understanding of the locations, and why they got their names."
As the book's compiler, he suggests the populace, or appropriate bodies, should be consulted before decisions are made.
The origins of Forfar street names are revealed in the book first published privately in 1999 with a new edition published two years later.
An impression of the 2001 edition was published in 2006 with the latest edition, published by Forfar and District Historical Society, featuring amendments, additions and illustrations.
The trip down memory lane covers locations from Academy Street to the Zoar, and all streets in between.
Meticulous research uncovers the stories behind the names –  with ecclesiastical connections and nods to national figures, local politicians, historical characters and dignitaries.
The book is interspersed with images taken from the photographic collections of the late Ernie Mann, Frank Thomson, Barrie Nisbet and the author.
Mr Whyte notes: "It is sad but regrettably true, to my mind at least, many street names allocated in recent years appear to have been selected by people without a feel for the place and the community, or were not inspired by a knowledge of the history and the heritage of Forfar and its folk.
"In the matter of naming streets there has obviously been an absence of people with a soul for the town."
As well as the facts behind the various street names, the book reveals the author's humorous reflections on some decisions noting: "A few do not lead anywhere at all, they are cul-de-sacs – as probably were the states of the minds of those who named them.
"It must be conceded the older names tended to be fairly accurate in their indication of the streets, purposes or their direction.
"Horsewater Wynd was the way to take a horse to drink, or to water.
"Raw was a row of hand loom weavers' houses. The Well Road led a well. Skitter Raw was …?"
The book will be launched on December 6 at the Society's meeting in the East and Old Parish Church Hall before going on sale to the public at Small's Sweet Shop in Castle Street.
It is the second book published by the society this year after a journal featuring topics from 'the history of the Visocchi family in Kirriemuir' to 'women in politics in Forfar and district in the early twentieth century.' The journal is for private circulation among paid-up members of the society.