Angus Council is staring into a deepening black hole of lost revenue from its unpopular off-street parking charges.
It is pinning its hopes on an influx of tourists and visitors over the coming months to bring cash flow back on course to meet its projected £700,000 full year's income.
Figures released for the first quarter reveal a month-on-month decrease in the uptake of six-month and annual permits.
Overall the net-income generated from permits, tickets and fines totalled £120,659 in the first three months, with the local authority facing a large shortfall if motorists continue to shun the charges.
In the first month since charges were introduced on November 1, the local authority banked £79,297 net income.
This slumped to £22,503 during the second month and to £18,859 last month.
Only one annual permit was purchased between December 27 to January 23, one less than the previous month, with 98 purchased in the first month bringing in a net income of £21,768 during the first quarter.
There was a drop in six-month permits purchased from 324 in the first month to 18 in the second and 13 last month, bringing in £38,205 overall.
There was also a steady decline in the number of tickets purchased at machines – 13,221 in the first month (£20,223 net); 11,865 in the second (£13,677) and 8,890 in the third (£13,677).
There was a slight increase in the number of 'virtual' tickets purchased in December compared to the previous month but these plummeted in January with 276 tickets purchased (£531 net).
There was an increase in the income from penalty charge notices issued with the first month bringing in £2,471 which dropped to £1,333 in the second but spiked to £3,036 last month.
An Angus Council spokesman said income has been influenced by various factors.
He said: "With additional payment options and positive seasonal effects from tourists and visitors from Easter through the summer months, we look forward to seeing the income grow to contribute to protecting vital services in Angus' communities."
Kirriemuir businessman and critic of the new charges, Barrie Ewart and critic of the new charges slammed the figures stating they were "even worse" than his initial estimates.
He said: "Angus Council administration can surely see what has been clear from the start.
"The parking charges have been so badly received by the public they have boycotted their car parks and rendered the scheme financially unviable.
"The initial estimated profit of £700,000 was obviously financially incompetent and should never have gone ahead.
"We need one sensible councillor to table a motion to abolish parking charges at the council meeting later this week. There could not be any challenge about the financial competency of such a motion as it is clear it would instantly save the council from further losses."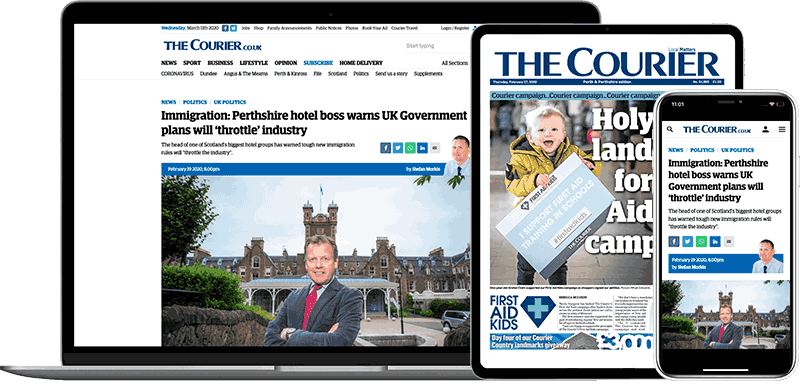 Help support quality local journalism … become a digital subscriber to The Courier
For as little as £5.99 a month you can access all of our content, including Premium articles.
Subscribe