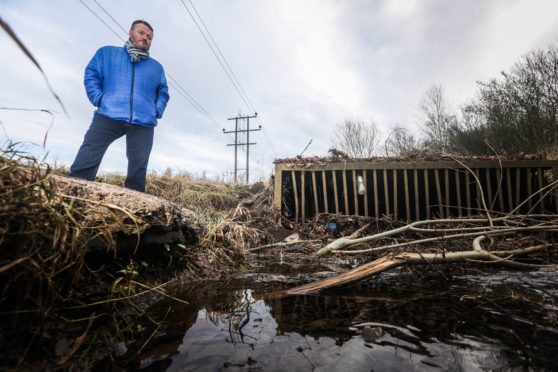 The death of an otter in Angus has sparked a move to protect the species.
The otter was struck by a vehicle on Kirkton Road in Arbroath after being forced out of the waterway at Hercules Den because a culvert had been covered with bars.
Local conservationist Ralph Coutts made the discovery after tracking the otter's movements and decided to take action.
He said: "I've filmed otters for years now all around Angus and beyond.
"Recently there was an otter found dead on Kirkton Road. When I tracked the otter movements it was clear from its prints that it came from Hercules Burn on its way through Arbroath's waterways.
"The culvert had been grilled with bars many years ago and the otter was forced out of the waterway and killed in an RTA.
"I contacted Councillor Derek Wann and with other council departments we came up with a plan to cut away some of the grilling to clear a way for future otter movements.
"They will cut away enough for the otters to move through the grill and fence around it to stop otters moving towards the road."
Mr Coutts – who runs the St Vigeans Conservation Network – also got in touch with Grace Yuxon from the International Otter Survival Fund (IOSF) which is based in Skye.
He wanted to do more to help the IOSF which is the only charity solely dedicated to the conservation, protection and care of otters.
Mr Coutts asked friends to donate to IOSF rather than give him birthday presents and almost £300 has already been raised.
"I wanted to do more to help these people who have dedicated their lives to caring for these wonderful vulnerable creatures," he said.
"Our group has raised awareness to Angus Council of the plight of these protected species and they are responding with a promise to make their culverts more otter-friendly."
Angus East and Lunan Conservative, Derek Wann said: "Angus Council and the community rely on people like Ralph and his hard work and commitment to making things better.
"I have known Ralph for nearly two years and in that time he has been involved in many projects in Arbroath.
"I am more than happy to help him and others in anything that makes Arbroath and Angus a better place.
"Wildlife is his big passion and we have an abundance of that in Arbroath and surrounding areas.
"I would like to take this opportunity to personally thank him."
If anyone would like to donate go to St Vigeans Conservation Network page and donate at https://www.facebook.com/donate/238343690439947/