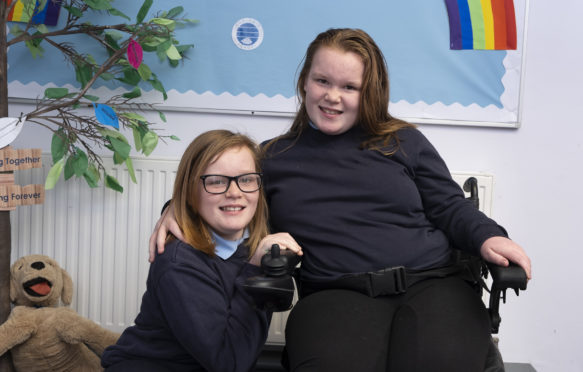 Twins Ayley and Chloe Hirsch are the pride of their primary as they prepare to represent their school at two major events this week.
The girls, now aged 10, have carved out names for themselves in the sporting arena after life-changing surgery seven years ago.
They were born with cerebral palsy and after a huge fund raising campaign travelled to Missouri in the United States for pioneering surgery at the St Louis Children's Hospital.
They spent eight weeks in America completing intense physical therapy.
Since 2012 they have undergone a series of different surgeries to help them progress.
They became involved in para-sports festivals when they were seven and their determination is paying dividends.
Today they will participate in the Tayside Para-Sports Day organised by Dundee and Angus College and on Thursday will represent their Carlogie Primary in Carnoustie as members of a 10-strong Angus team which will travel to Grangemouth for the Sportshall Athletics Festival.
Class teacher Julie Christieson said: "Their enthusiasm and enjoyment of a range of different sports continues and they love the opportunity to compete.
"Their perseverance and determination is to be admired."
Proud mum Averil, 42, spoke of the girls' achievements on the sports' field as they prepare for two days of competitions.
She said: "They have been going to the Tayside Para sports day since primary three and will take part in a wide range of sports.
"They attended a trial at Perth for the Grangemouth event and again will take part in a variety of sports.
"Chloe swims three times a week now, Ayley plays football and on Saturday Ayley got her yellow belt for kick boxing."
She said she and her husband Frazer are extremely proud of the twins' achievements.
She added: "They have come a long way. The school has been absolutely fantastic with them, really supportive, and cheers them on. They play a big part.
"They have their ups and down but just muscle through it. They're doing great."
The local community rallied round the girls to help send them the St Louis Children's Hospital where they had an operation known as Selective Dorsal Rhizotomy (SDR) in January 2012.
They were unable to stand or walk in their early years and their family had to raise £80,000 to take them to the States.
They raised £175,000 with Ayley going on to enjoy football with Carnoustie Panmure.
Chloe had to have another operation on her heel chords and hamstrings in America in 2014.
She enjoys swimming, horse riding and wheelchair basketball.
Last year, Ayley underwent an operation on a foot, which has helped her running.