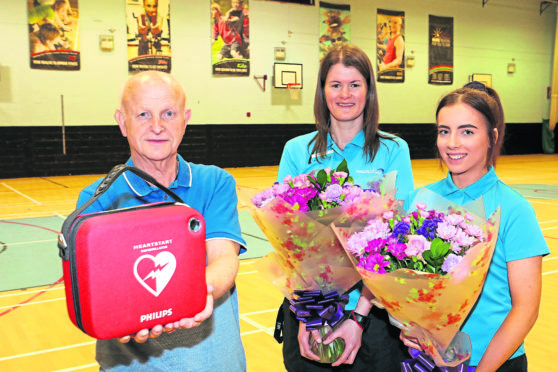 A football-mad Angus pensioner has thanked the leisure centre workers who saved his life.
David Hutcheon, 68, from Carnoustie, paid tribute to the fast actions of duty manager Lisa Lawrence, 34, and staff member Rebecca Hutchison, 18, when he returned to Arbroath Sports Centre for the first time since he collapsed.
He said he could not thank them enough and would forever be grateful but Lisa and Rebecca shrugged off their hero tags.
"We were just doing what we are trained to do," said Lisa.
"We are reluctant heroes but we're just glad we got there in time."
Mr Hutcheon has been playing five-a-side football for the past 30 years and was enjoying a Friday afternoon game with regulars from the Westport Bar in Arbroath when he became ill.
He collapsed during the game while playing in goal and fellow players put him in the recovery position and went for help.
Lisa and Rebecca started CPR before applying the defibrillator (AED) to his chest which managed to re-start his heart.
He was taken to Ninewells Hospital in Dundee where medics ran a series of tests which confirmed three arteries were blocked.
Mr Hutcheon, who latterly worked as a taxi driver in Arbroath before retiring, was transferred to Edinburgh Royal Infirmary for a triple bypass operation.
"I realised it wasn't good and immediately went for the defibrillator," said Lisa.
"It's amazing what these things can do and it's great to see them popping up all over the town.
"It's scary when it happens for real but you just go into auto-pilot and the training takes over.
"I'm delighted to hear that Mr Hutcheon is now on the road to recovery."
It is the second time Lisa has used a defibrillator at Arbroath Sports Centre to save someone's life.
Rebecca said: "It's just our job – we did what we should do. We didn't have to think about it."
Mr Hutcheon went to physiotherapy this week for the first time and is on the slow road to recovery.
"I'm not expecting to be doing cartwheels at the moment," he said.
"But I wanted to go back and thank Lisa and Rebecca for saving my life."
The married dad-of-two, who also has two grandchildren, has no plans to hang up his goalkeeping gloves and said he has always dreamed of playing football until he was 70.
Gail Mallarkey, facility manager at Arbroath Sports Centre and Royal Life Saving Society Centre coordinator for Angus Alive said: "Lisa and Rebecca are very reluctant heroes.
"We've got 144 lifeguards trained in the use of AED at our centres and 80 more staff members at outlying places such as libraries and theatres.  We had a similar success story five years ago when myself and Lisa used an AED to bring a 30-year-old man back to life.
"A year later he had a son so it just shows how these devices can change everything.
"We've had a number of other successes including one at Montrose Sports Centre, one at Arbroath Community Centre and one at Webster's Sports Centre."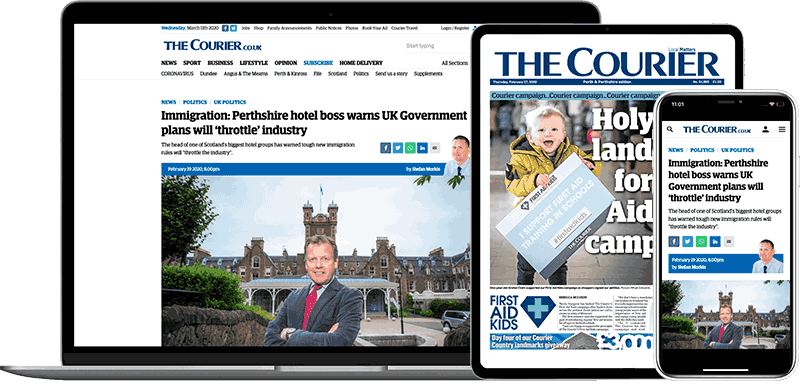 Help support quality local journalism … become a digital subscriber to The Courier
For as little as £5.99 a month you can access all of our content, including Premium articles.
Subscribe