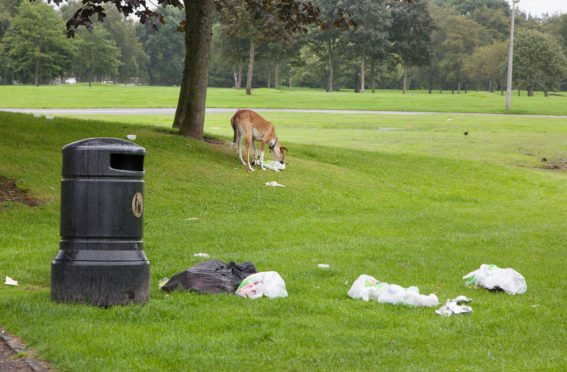 An Angus councillor has condemned those responsible for defecating in public after reports piles of human faeces were found near a Travellers encampment.
Tommy Stewart, independent member for Montrose and District, hit out after the encampment left town this week as the fun fair moved in.
One resident complained about excrement and soiled toilet paper being found in the woods near the health centre in Marine Avenue
Whilst the council was aware of the encampment and had procedures to follow, Mr Stewart revealed they were "actively" looking at ways to alleviate the problem.
He slated those who left excrement in the wood stating: "It's absolutely ridiculous, there are toilets just round the corner and right across the road at the sports centre.
"There is absolutely no need for anybody to do that. This encampment was brought to our attention but there is no proof it was them.
---
>> Keep up to date with the latest news with The Courier newsletter
---
"I did walk past there and they had put out black bin bags of rubbish at the roadside for the council waste team, albeit the seagulls were getting at them.
"We are looking at procedures just now to try to alleviate the problem with illegal encampments."
One resident, who did not wish to be named, said she had raised her concerns about the  Travellers' encampment sited outside the health centre with Angus Council.
Although unsure who was causing the problem she said : "They have been there over two weeks.
"People are defecating in the local woods and leaving soiled toilet paper, it's disgusting. Montrose attracts a lot of holiday makers at the beach campsite, and they are walking through this.
"Dog walkers and walkers with children have to be extra vigilant, it's not on."
An Angus Council spokesman confirmed the encampment at Marine Avenue in Montrose had left.
"The Gypsy Traveller Liaison Officer maintains contact with encampments in accordance with policies and procedures and when they depart, we will ensure any damage to land is attended to.
"Taylor's Funfair is now resident on site."
There were similar reports of human mess in Forfar some years ago after an illegal encampment left the Forfar Loch Country Park after a bitter battle with the local authority.
On this occasion the Travellers were condemned for leaving human and animal excrement, sanitary materials, bags of rubbish and empty beer cans strewn around the area.
The group had been the subject of bitter condemnation from community leaders after first pitching up on the south side of Forfar Loch before moving to a more prominent location on the north of the popular beauty spot.