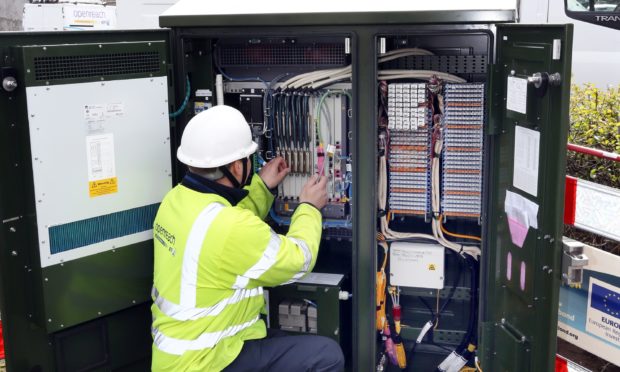 Families and businesses in Angus are struggling with some of the worst broadband speeds in Scotland.
Speed checks carried out before new rights are introduced next year revealed almost half of homes in the area do not meet the legal minimum of 10 megabits per second (Mbps).
Low speeds create problems for businesses and can see households disadvantaged compared to other parts of the country.
Consumer body Which carried out almost 400 speed checks in Angus, discovering only 52% of homes met the legal benchmark.
This puts Angus in the bottom 10 in the country, joined by Perth and Kinross, Banff and Buchan and Dumfries and Galloway, among others.
Angus MP Kirstene Hair, Conservative, said communities in Angus are being "left behind".
---
>> Keep up to date with the latest news with The Courier newsletter
---
"These figures are a stark reminder of how much work still needs to be done to improve broadband speeds in Angus," she said.
"It is completely unacceptable that barely half of homes in in my constituency are getting decent broadband speeds, while in some areas the figures is as high as 79%.
"Because of the way in which the Scottish Government designed their superfast broadband roll out, providers inevitably connected the easier to reach properties in the central belt, leaving places like ours behind.
"Residents outside the main towns cannot wait for the Scottish Government to get its act together, residents and businesses need decent connectivity sooner rather than later."
Dominic Hughes, 34, owner of MòR Beers in Kellas, said his internet is slow.
"Not being able to reach certain speeds can be frustrating," he said.
The craft ale brewer said his provider advised he was unlikely to get access to fibre, meaning he would pay for faster speeds he was unable to access.
"This can be restrictive for local businesses," he added.
A Scottish Government spokesman criticised the study for failing to include the results of its recent Digital Scotland Superfast Broadband (DSSB) programme –  though the Which study is thought to better reflect the speeds users actually experience.
He said: "We have concerns about the robustness of the data.
"In Angus alone, superfast coverage, at speeds of 30 megabits per second or better, has increased from 58.8% in January 2014, when Scotland's £400 million DSSB deployment began, to 87.5% by February 2019."