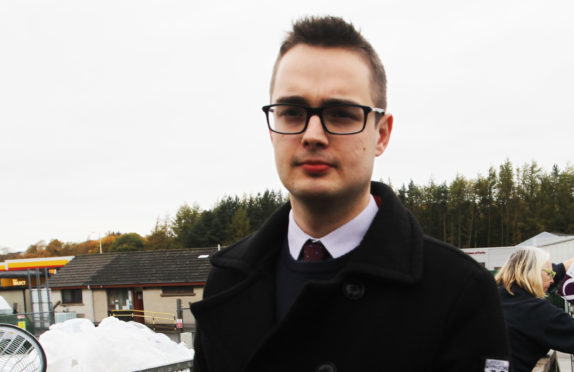 An Angus councillor had his wings clipped when he attempted to lock horns with the SNP over plans to scrap the pound.
However, Conservative Braden Davy has insisted his motion won't be short-changed.
It has emerged the Forfar member – who is also Angus Council's economic development spokesman – had the rug pulled from under him before he could challenge the local SNP group at last week's Angus Council meeting.
Mr Davy was due to put forward a motion asking the chief executive to write to Nicola Sturgeon "to state Angus Council's belief that keeping the pound is the best financial decision for Angus".
However, at the request of council leader David Fairweather, the motion was withdrawn "at this time".
It is understood that Mr Fairweather didn't feel comfortable with the political nature of the motion being put before full council and suggested Mr Davy should pull it.
Mr Davy was due to say replacing sterling with a new Scottish currency after independence would put the "vital work of the council at risk" and "further harm our connections with the rest of the UK and any business and sourcing links".
Mr Davy said: "Ditching the pound is economic madness, it will result in horrendous cuts to our local services and damage local economy.
"This makes absolutely no sense and it's time the local SNP came clean over their support for this."
Mr Davy said Angus Council borrows from the Public Works Loans Board which is a UK-based institution supported by HM Treasury.
He said separating the currencies would mean increased risk and increased borrowing "and Angus Council losing our access to borrowing".
Mr Davy said: "It is likely an independent Scotland would be required to have financial assessments, and that any debt would be denominated in pounds, leaving Scotland at risk of paying increased debt in a quickly depreciating currency.
"Not to mention damaging our economy as businesses, and services would be faced with increased costs for doing trade. Abandoning the pound would add significant uncertainty and danger to our local economy which we don't need."
It is understood Mr Davy spoke about potential issues with council officers.
He said he will bring the motion back for discussion "at a future date".
SNP group leader Lynne Devine said: "It was heartening to see that Councillor Davy accepts that Scotland will become independent but really this motion is a waste of time at this point.
"Changing from the pound to a Scottish currency is away down the line.
"Brexit, however, which could be just round the corner is much more worrying in terms of impacting the vulnerable and the work of the council.
"And then it was pulled from the agenda at the very last moment by Councillor Davy's own leader.
"I think that was a sensible thing to do on Councillor Fairweather's part, given how politically motivated the motion was and how often he accuses the SNP group of being 'political'.
"How embarrassing this should be for Councillor Davy, but I don't think he holds his leader in any respect at all and quite honestly isn't a team player.
"So I doubt if he will stop and will probably try to bring it back in some guise or other."