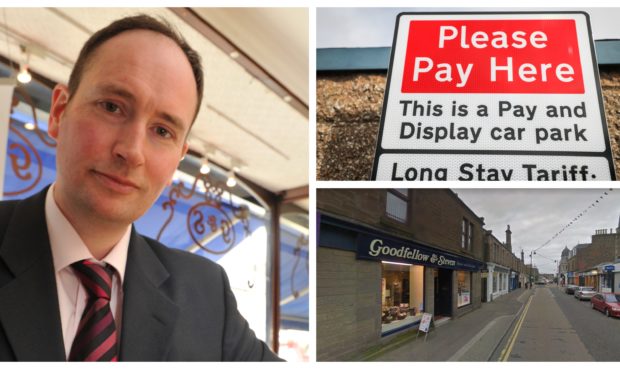 A much-loved family bakery and café in Carnoustie has closed six months after controversial parking charges were reintroduced to the Angus town.
Shoppers were startled to discover a note posted in the Goodfellow and Steven window on the High Street, letting customers know the shop had closed its doors for the final time.
Sales director Martin Goodfellow, whose great-grandparents founded the business, said Angus Council's controversial reintroduction of parking charges in November had been a factor in shutting the branch.
He said: "It shows the insensitivity of decision makers in Angus Council. They clearly don't understand retail and they don't understand the people that use town centres."
"Some were supportive of us, but the rest were dismissive," he said.
There were no compulsory redundancies when the Carnoustie shop closed, with two members of staff choosing to take voluntary packages and leave the company.
A drop in footfall in Carnoustie high street led to the decision, he said.
"I don't feel good about shutting any shops, especially a community shop where many of our customers have been coming for many years.
"It is a business decision. We review our shops regularly, in terms of trading, and sometimes we have to take the hard decisions. Carnoustie High Street does not have the same footfall as it once did."
SNP councillor Mark McDonald said the damage parking charges have done to small towns was "really beginning to hit home."
He said: "Goodfellow and Steven has been a fixture in Carnoustie for such a long time and it's incredibly sad that such an iconic local business has had to close this branch.
"The closure of the shop will undoubtedly be upsetting for many.  I feel for any staff impacted by this decision."
An Angus Council spokesman said: "We regret the closure of any local business, while recognising that decisions about starting, closing, or re-locating a business are often taken over a significant period of time and rarely hinge on one factor alone."
He said most high streets are subject to parking restrictions and a requirement to pay to park locally.
"In Angus, it is possible to park for free on street in designated areas for up to 30 minutes. Off street parking is available for just £1 an hour up to a maximum of 4 hours, and our permits offer parking for as little as 85p per day.
"This stands fair comparison against our neighbouring local authority areas and anywhere else in the UK," he added.