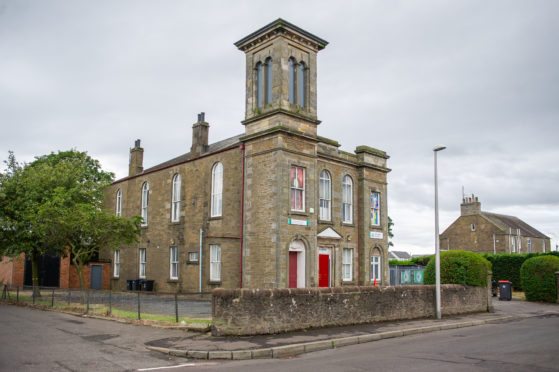 Community groups in Carnoustie are being urged to "use it or lose it" ahead of a public meeting to discuss the future of the "Pannie".
The Panmure Community Learning and Development Centre was deemed "surplus to requirement" by Angus Council in 2017 as the local authority attempted to balance the books and is currently used by a local nursery.
A concerted effort has been launched to ensure the historic building, used  in the past by various groups including IT and arts and crafts organisations, continues to play an important role in the future.
Brian Boyd, independent councillor for Carnoustie and District, urged those interested to have their say in order to avoid a "Lochside Leisure Centre fiasco".
Referring to a recent case in the Court of Session against Angus Council and its decision to demolish the former Lochside Leisure Centre in Forfar, Mr Boyd stressed the council in this instance was "ahead of the game."
He said: "The Lochside Leisure Centre was more complicated than this.
"The Panmure Centre is still owned and run by the council, but next year the nursery will move to a fantastic new purpose built nursery.
"The council is trying to gauge interest in the building and I urge anyone interested in its future to register to attend a meeting, which I believe is to be held next Monday.
"We fought tooth and nail four years ago to save the building – it is now a case of use it or lose it."
He said the building was under threat in 2015 and was among a number which the council agreed to sell off under a review of  its properties.
"In fairness to the council they are trying to find out if anyone in the community is interested in the building before it is put on the open market," he said.
"We don't want this building to go to the private sector or to be sold off for housing."
Fellow Carnoustie and District independent councillor David Cheape said the centre was a key part of Carnoustie's heritage and could be run by the community under a community asset transfer.
He said: "It is important all local groups are made aware of this meeting in order to ensure absolute transparency and openness.
"I hope that, where there is a valid demand, the building can continue to be used by one or many of the huge number of voluntary groups and clubs in and around Carnoustie."
A spokesman for Angus Council said the meeting would be a "very informal" discussion with groups and organisations with an interest in the centre to establish what they would like to see happen in future years.
Those interested have until 5pm today to register an interest in attending the forthcoming meeting, organised by the council's communities team, by contacting Sylvia Breen on breens@angus.gov.uk