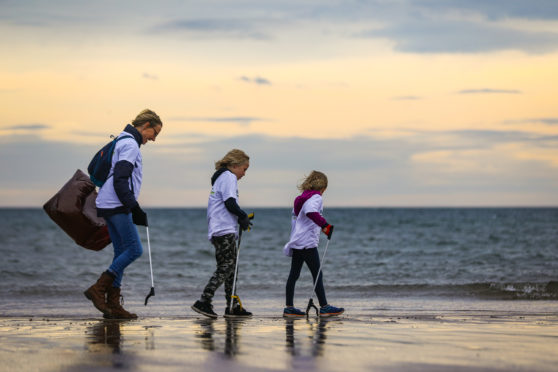 Creels and ghost fishing gear made up half of the 1.2 tonnes of litter collected from the Angus coastline at the weekend.
The total weight picked up during the second Great Angus Beach Clean was 1.5 tonnes less than the first event in May but organisers have stressed there is no room for complacency.
In Arbroath, Angus Clean Environments (ACE) have been leading a project to prevent land litter from reaching the sea, particularly at the harbour area.
In East Haven, residents have been beach cleaning for more than 25 years.
During that time the amount of marine litter, particularly ghost fishing gear, has increased to the point that it is no longer possible to remove it without mechanical assistance.
Thanks to grant funding from LEADER, the European rural development programme, the East Haven Together team purchased a utility vehicle capable of transporting marine litter from the beach.
Wendy Murray from East Haven Together said: "We are still out picking up a few odd items but it's safe to say that the total weight uplifted comes to 1.2 tonnes.
"Although this is more than 1.5 tonnes down on what was collected in the Great Angus Beach Clean in May, a large volume consisted of lightweight small plastic pieces such as coffee cups, plastic lids, wet wipes and other mixed plastics.
"These small plastics are extremely hazardous in the marine environment and are contributing to the climate emergency we now find ourselves in.
"At least half of the items uplifted comprised of creels and other ghost fishing gear."
Abandoned, lost or disposed of fishing gear accounts for about a third of marine litter found in European seas.
In the EU, 20% of gear is lost at sea which includes things such as accidents, storms and entanglement to intentional abandonment.
Fishing gear is designed to be durable in the marine environment and takes many years to degrade.
Monofilament fishing lines are estimated to take 600 years to degrade.
Wendy said: "It was extremely encouraging to see so many people down on the coast doing their bit to remove as much plastic as possible over the weekend.
"People travelled great distances to take part and organisations such as McDonalds, SSE SeaGreen and St Thomas Swimming Club joined councillors and members of the public on the beaches.
"The spring Beach Clean will always be the bigger one in terms of weight due to the amount of litter brought in during storms.
"It is heartening but there is lots more to do."