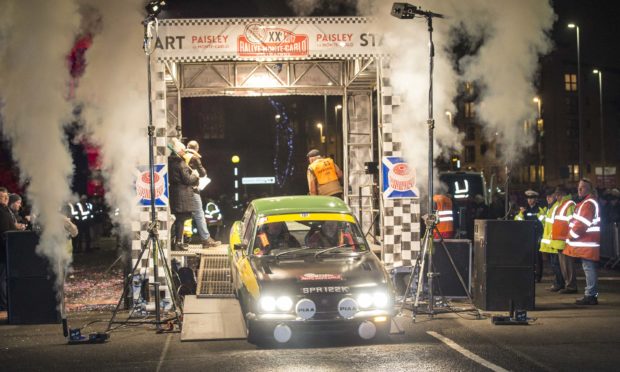 Glasgow is to re-take its place as the UK start point for the historic Monte Carlo classic rally when the epic endurance event gets underway in January.
The start ramp in front of Glasgow City Chambers will see enthusiasts from across the country embark on a 1,300-mile drive to the south of France in an array of vehicles of the type which competed during the heyday of the legendary motorsport challenge.
Brought Ferry man Douglas Anderson was responsible for bringing the Monte back to Scotland in 2001 and when the flag drops on the evening of January 29 it will be the third time Glasgow has hosted the "grand depart".
Crews have regularly participated in the gruelling event and Glasgow is the only British start point out of seven European cities including Athens, Milan and Barcelona.
In 2017, Angus enthusiast Andrew Goodfellow and brother-in-law co-driver Derek Coghill made the trip in an open-top 1930 Austin 7.
The following year, Carnoustie pals David Tindal, Alan Falconer and Stephen Woods raised thousands of pounds for Prostate Scotland with a trouble-free run in a newly-restored 1950s Ford Prefect named Bella.
In recent years, Glasgow, Paisley and Clydebank have featured as the only UK start locations.
Cars and crews will compete in three separate categories.
The Historique class is being run for the 23rd year and is restricted to car models which competed in the Monte between 1955 and 1980. It will run over eight days on open public roads with the cars and crews undertaking a series of fourteen demanding test stages in the mountains of southern France.
The Classique event is for older cars from as early as 1911 to 1965 and follows the same route to Monte Carlo but does not include any test stages, the goal simply being to finish in Monte Carlo after checking in at a series of control points on the way.
Once again the event will also feature the popular Monte Heritage runs, which will link with the full-scale events and will take in a series of short classic routes in Scotland including starts from John O' Groats and Aberdeen.
An afternoon show of classic cars will be staged as the competitors line up for the evening departure and Mr Anderson said he was confident city crowds would give the teams a rousing send off.
"The Monte competitors will be thrilled to be leaving from Glasgow, one of Europe's great cities.
"The people of Glasgow are sure to make their send off from George Square an occasion never to be forgotten."