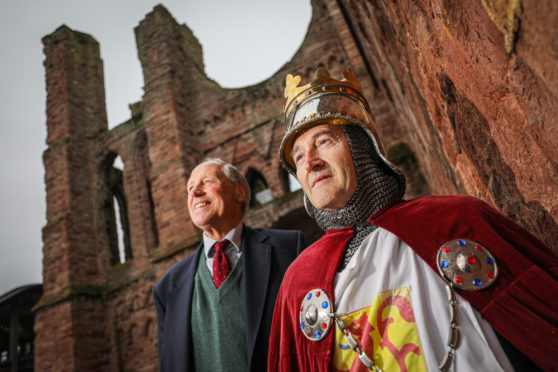 A politician is calling for the hidden histories of Arbroath Abbey to be explored as the 700th anniversary of its most famous moment approaches.
Councillor Angus Macmillan Douglas' family has strong links to the historic title of Earl of Angus and wants to highlight little-known stories that could boost visitor numbers to the area, seven centuries after the Declaration of Arbroath was signed.
One such tale is of Earl Gilchrist, the 12th century Earl of Angus whose marriage to  King William the Lion's sister should have cemented his place close to the throne.
However, Gilchrist, a brave warrior who had given exceptional service to the king, was a jealous man and he threw his wife out and later strangled her at Mains Castle in Dundee after rumours of her infidelity reached him.
The king , who founded Arbroath Abbey in 1178, took immediate revenge, razing Mains Castle and other properties to the ground, as well as confiscating Gilchrist's estates.
Gilchrist fled to England with his two sons but was forced back to Scotland where the three, dressed as peasants, lived as outlaws for many years until King William saw the trio digging turf.
Prostrating himself before the monarch, Gilchrist begged forgiveness and William, perhaps bearing in mind Gilchrist's exploits on the battlefield, restored his lands.
In the fullness of time, Gilchrist and his two sons were eventually buried in Arbroath Abbey, in the chapel dedicated to Saint Catherine, close to where King William would be laid to rest in the abbey's nave, when he died aged 72 in 1214.
The title of Earl of Angus would eventually pass into the Douglas family in the 14th century, and a current descendent, Angus Council's depute leader, Mr Macmillan Douglas is calling for this – and other "hidden histories" of the abbey – to be explored.
Kirriemuir and Dean Conservative councillor, Mr Macmillan Douglas said: "This was a tragic incident, and several versions of the story exist, one of which claims Gilchrist's sons committed matricide, but it is ultimately about redemption.
"We know that over the centuries, Arbroath Abbey has seen more than its fair share of notable visitors and incidents.
"I think we have an opportunity here to more fully explore the fascinating story of Arbroath Abbey and do more to celebrate its rich history."
William is thought to have been the first Scottish monarch to adopt the lion rampant as a royal standard, although there is no clear evidence of its use before 1222 by William's heir, Alexander II.