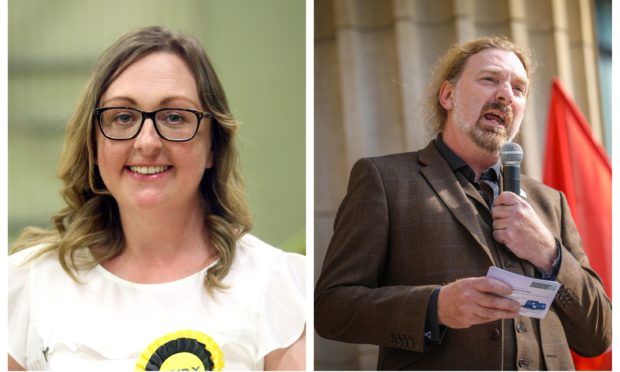 High profile figures from across the Dundee SNP group are set to give evidence on opposing sides in a tribunal case being brought against local MP Chris Law.
Dundee City Council leader John Alexander has been named as a witness for Mr Law, who is accused of "ostracising" and "humiliating" SNP councillor Roisin Smith while she worked in his constituency office, allegedly forcing her to resign.
Council education convener Stewart Hunter has been named as a witness for the claimant Ms Smith, who is the deputy convener of the same committee.
Among the bullying allegations are claims Mr Law deliberately cropped and erased Ms Smith from a photo he posted to his social media account.
The picture had originally featured the pair alongside First Minister Nicola Sturgeon and others at V&A Dundee in September 2018.
In removing her from the image, Ms Smith argues Mr Law "went out of his way to ostracise her in a publicly humiliating fashion".
This left her feeling "deeply upset and unwell", according to legal papers filed in connection with the case.
The documentation goes on to allege Ms Smith's parliamentary email account was closed 10 days later. She also says she was kicked out of a closed SNP Facebook group by Mr Law.
Ms Smith, 46, resigned and is now claiming constructive dismissal against the Dundee West MP.
Her grievance runs to almost 20 pages of allegations spanning the period September 2015 to June 2018.
Mr Law denies the allegations and insists they were "independently investigated" when they were put to him and were not upheld.
One of the staff members accused of bullying is Mike Strachan, an SNP charity activist and Yes campaigner. He is also the partner of Dundee City East SNP MSP Shona Robison.
The other is Tom Thomson, an SNP parliamentary assistant.
A number of other witnesses have been named for Ms Smith, including neighbourhood services convener Anne Rendall and city development convener Alan Ross.
Ken Lynn, the deputy convener of the licensing committee, has also been named on the claimant's witness list, as well as independent former SNP councillor Gregor Murray.
The hearing date has been fixed for Feb 10-17 next year at the Employment Tribunal Service headquarters in Dundee.