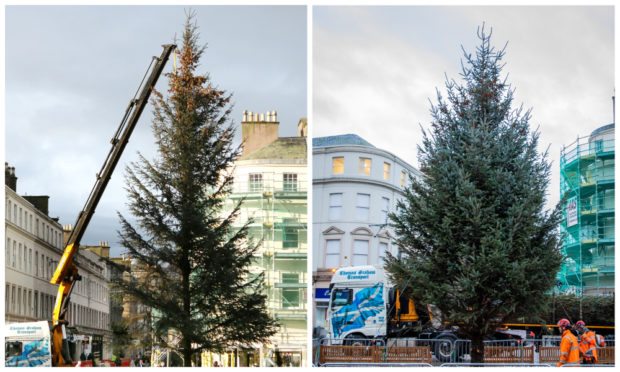 The Christmas tree in Dundee's City Square has been replaced within hours of its arrival.
A section of the busy pedestrian area at City Square was cordoned off  yesterday as workers used a crane to install the tree to full height.
But the tree's discoloured and withered state did not impress officials and it soon became the source of ridicule on social media.
Dundee City Council bosses were pining for more and quickly took action. The supplier agreed to send a fresh one, which arrived this morning.
A Facebook post by The Courier sharing pictures of the tree being erected on Monday was inundated with comments lambasting the tree's condition.
Unimpressed by its browning tip and thinning foliage, comments included it "looks dead" and "I bet that cost £3.99".
Jane Scott posted: "I saw the tree getting put up and the branches were falling off. Not much of a tree."
Responding to the backlash, the council took the unusual measure of posting in the comments section from the authority's official page to tell people a new tree is coming to the city.
The post said: "We can confirm that the tree will be replaced as soon as possible at no extra cost to the council."
Tourism expert Maggie McLeod praised the council's intervention, saying it stopped Dundee from becoming a "laughing stock".
She said: "The Christmas period brings in a huge amount of people and the tree is such a focal point.
"I'm glad the council saw sense and took action."
Ms McLeod, a World Federation of Tourist Guide Association national trainer, added: "The light switch on is the starting point of the Christmas season and families come out to see it. It would put a real dampener on it if a withered tree was there.
"But it's not just locals, a lot of visitors will come to a city to see what is on offer at Christmas and first impressions really do matter.
"Dundee is the fourth biggest city in Scotland and they need to be seen to build on the great work being done at the Waterfront.
"There needs to be a reason for visitors to the city who are going to see the V&A or the Discovery to venture up to see the lovely City Square. I hope the new tree is a lot better."
A council spokesperson confirmed the supplier agreed not to charge the local authority extra for installing the repacement..
Similar action was taken in 2014 when that tree was so threadbare it needed extra branches nailed on to it.
The "horrendous" tree was eventually taken down and a new one put up.
This year's lights switch-on is set to take place on Friday.