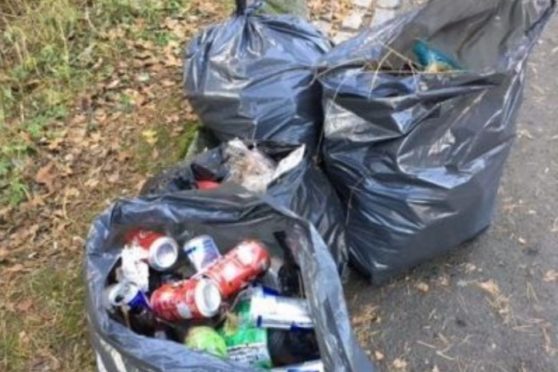 A Dundee councillor who helped clean up the Law for Christmas has hit out at litterbugs who are giving the city a "poor image".
Councillor Mark Flynn took part in a litter pick organised by the Friends of Dundee Law group on Sunday.
He collected four bin bags of rubbish from just one small area of the hill, with items including cans, bottles, plastic bags and car accessories.
Mr Flynn said: "The amount of rubbish we found was disgusting.
"In 30 minutes I collected four bags of rubbish – drink cans and bottles, bits of plastic food trays, plastic bags, car mats, you name it.
"I was mainly cleaning up a lay-by area so it's obvious that people drive up there and just chuck things out of the windows.
"When did it become acceptable for people to throw their rubbish around like that?
"This absolutely isn't the fault of Dundee's street sweeping teams who do a great job, it's individuals behaving in a way that is really disappointing."
Mr Flynn said Dundee was normally a clean city but rubbish around a landmark like the Law could give visitors a bad impression.
He added: "Dundee is not a dirty city, we have high standards, but this does give a poor image of the place.
"People should either use the bins or take their rubbish home with them."
Friends of Dundee Law volunteers worked tirelessly from 1 to 3pm to clean up the area.
The aim was to get the Law looking good ahead of the festive season.
Volunteers enjoyed refreshments courtesy of  St David's High Kirk after their hard work.
In November they also planted wildflower seeds and cleared the paths, ditches and drains.
Dundee City Council officers can issue fines of £80 to anybody caught discarding litter.
The discarding of rubbish has also been a persistent issue in other areas of Dundee, such as Broughty Ferry during the spring and summer seasons.
The area around the beach and Broughty Ferry Castle is regularly left covered in food packaging, disposable barbecues and towels.