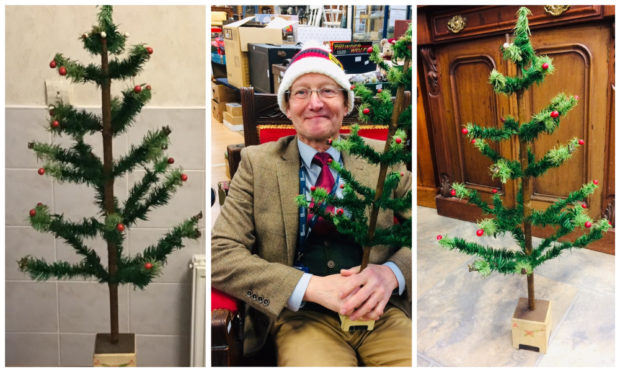 As families across the nation deck the halls in exuberant style, a 1937 Christmas tree from Dundee acts as a sharp reminder of more humble festivities in days gone by.
The 82-year-old tree was bought at Woolworths in in 1937, cost the equivalent of 6p and stands just 69cm (27 inches) high.
It was purchased to celebrate the arrival of James Smith, who was born the same year.
According to the family who own it, it was at the centre of celebrations, the star festive adornment for 58 years in his mother's home.
Recently re-discovered, it will go under the hammer at Hansons Auctioneers on Thursday with an estimate of £100 to £150.
It is hoped the power of nostalgia may see it exceed that amount because in 2017 Hansons sold a similar tree to the American Christmas Tree Association for £420.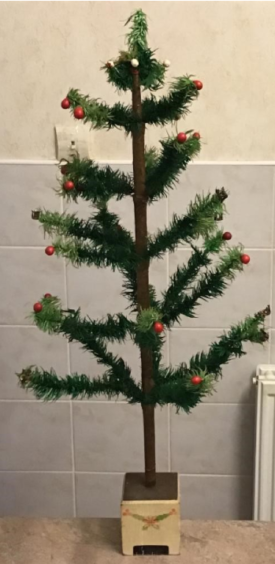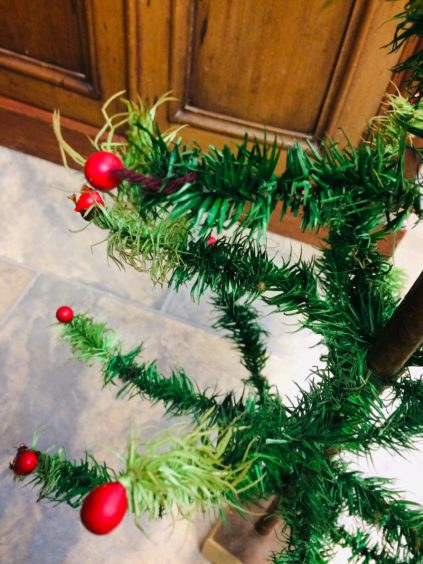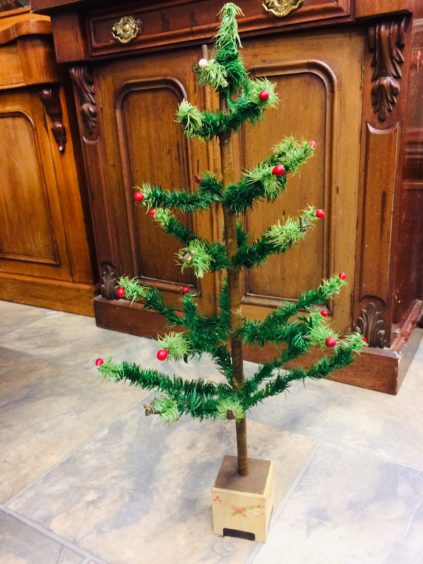 James Smith's daughter Claire Barnett, a teacher from Fife, said: "My gran, Catherine Smith, bought it for my dad's first Christmas in 1937, not long before the start of the Second World War in 1939.
"After that, it became the main tree in my grandmother's home in Dundee for decades. She decorated it every Christmas until she died in 1995 at the age of 89.
"When dad was small, he remembers the excitement when the tree went up in the middle of December. Sadly, he lost his father in 1938 when he was only 18 months old.
"Consequently, dad grew up as an only child but his mum did her best to make Christmas special for him.
"On Christmas Day he remembers getting an orange, a shiny penny, a game and some sweets in his sock by the fire.
"There were some candles on the tree, which has small candle holders on the end of some of the branches as well as some red berries.
"We think the painted wooden base of the tree was made in Germany. My gran would add some fir cones and holly around the base of the tree to enhance it.
"Christmas dinner would be a chicken, which was a luxury back then, and he would have Christmas dinner with his mother and aunt.
"My mum, Dorothy, and dad, who will be 83 in January, have been married for 58 years and have lived in the same house in Dundee for 53 years.
"They were clearing the loft and came across the tree, which hasn't been used since 1995. They thought someone else might like it to remember how the festive season used to be."
Charles Hanson, owner of Hansons Auctioneers, said: "This is a wonderful reminder of Christmas without excess in the late 1930s and during the Second World War.
"It's in remarkable condition considering its age and deserves to be on show and admired.
"Woollies is no longer on our high streets but in its hey-day it played a huge part in Christmas shopping.
"Finds like this modest tree remind us that you don't need to spend a fortune to enjoy a happy Christmas.
"The waste-not, want-not generations of old are still teaching us an important lesson about valuing the simple things and not replacing objects just for the sake of it."
Department store Woolworths started selling some of the first mass-produced artificial trees in the 1920s.
In 1930, the British-based Addis Housewares Company created the first artificial Christmas tree made from brush bristles.
The company used machinery utilised to manufacture toilet brushes.
The first artificial Christmas trees were developed in Germany during the 19th century and were made using goose feathers dyed green.