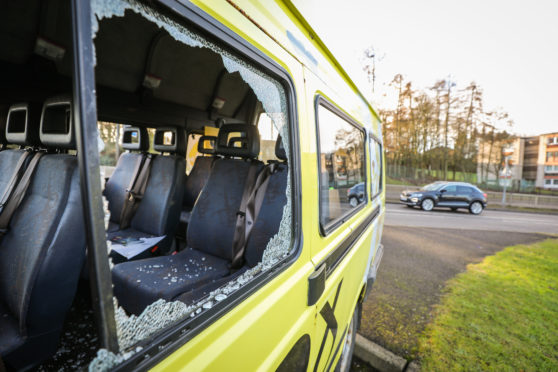 Police in Dundee are investigating after city MP Chris Law's SNP minibus was vandalised.
Officers were called to Mr Law's Lochee headquarters on Marshall Street on Friday after office staff were alerted to a smashed window on the campaign vehicle.
The minibus has become well known across the city and is often seen parked in a prominent position just off Coupar Angus Road.
The vehicle, which was given a makeover for the 2015 General Election following a crowd funding campaign by Mr Law, seats 16 people and is decorated in SNP yellow with several party logos and a spirit woman design.
Police attended the scene on Friday and spoke to a member of Mr Law's office staff, who were still on holiday at the time incident and were enjoying their final day of annual leave before returning to work next week.
The damaged window was later seen boarded up using one of the SNP campaign signs vandalised during a previous election campaign.
A number of documents were inside the van when the window was smashed – including papers containing the names and addresses of voters – but a source close to Mr Law said there was no concern any private information had been taken.
It is understood some of the details relate to individuals living in Lochinver Crescent, an area which falls within Mr Law's Dundee West constituency.
The source said it is not believed the vandalism was politically motivated but police are investigating the circumstances.
Mr Law said: "I am disappointed and saddened that the Dundee SNP minibus has been targeted by vandals. There is no excuse for this kind of behaviour.
"We should all aim for a better politics where people on all sides are treated with respect, and which does not resort to mindless vandalism."
Police Scotland has urged anyone with information about the incident to get in touch.
A spokeswoman said: "Police in Dundee are investigating following after a minibus parked in Marshall Street had a side window smashed.
"The incident was reported at around 12.30pm on Friday, January 3 and is believed to have happened overnight on Thursday.
"Anyone with any information to assist inquiries should contact officers via 101 and quote incident number 1304 of January 3.
"Alternatively a report can be made to Crimestoppers anonymously on 0800 555 111."