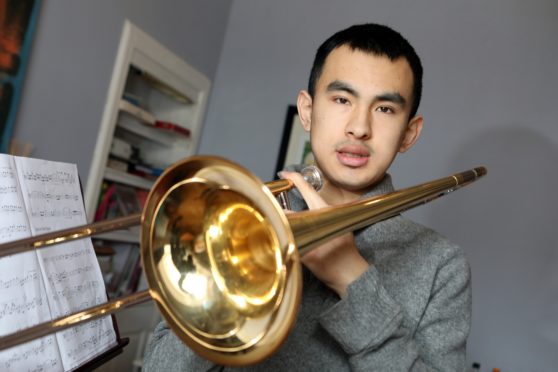 An autistic man whose beloved trombone was taken from a Dundee shopping centre has been reunited with the instrument.
Last week, Sebastian Jiang, 21, had stashed the brass instrument close to the entrance to the Wellgate Central Library, "naively" believing it would be safe.
However, later that day, a man was seen on CCTV, apparently stealing the £700 item.
Sebastian and his mother Xinyi, who live in Tayport, were given the good news that it had been traced on Saturday evening.
A man has been charged in connection with the theft.
Xinyi said she was overwhelmed by the response by locals.
He said: "We want to thank the police for everything they have done and to everyone else.
"We have been really touched by the response as so many people have been in touch.
"It's so nice to hear that so many people care.
"We also want to say a special thanks to Ian from Wellgate Library who trawled through the CCTV footage.
"It's all wonderful and it shows what a great city Dundee is."
As police hunted for the instrument, a number of people reached out to help.
Dundee University Orchestra, of which Sebastian is a member, had been quick to set up a fundraising page to help buy him a new instrument.
Describing him as a "talented and outgoing member of the orchestra", the group said they were desperate to have him return.
Another member of the public had also offered Sebastian a trombone that was no longer needed.
Sebastian began learning to play almost 10 years ago to build confidence and better cope with his autism.
Alongside football, it is one of his favourite activities when he isn't studying for an HND in Accountancy at Dundee & Angus College.
He had been left distraught by the instrument's disappearance but now plans to get back practising as soon as possible.
Xinyi added: "He's very happy.
"Our story proves what a wonderful place Dundee is. We will never lose our faith."
A Police Scotland spokesperson said: "Police can confirm a 39-year-old man has been charged in connection with the theft of a trombone at the Wellgate Library, Dundee, on Wednesday, 5 February, 2020.
"A report has been submitted to the Procurator Fiscal."