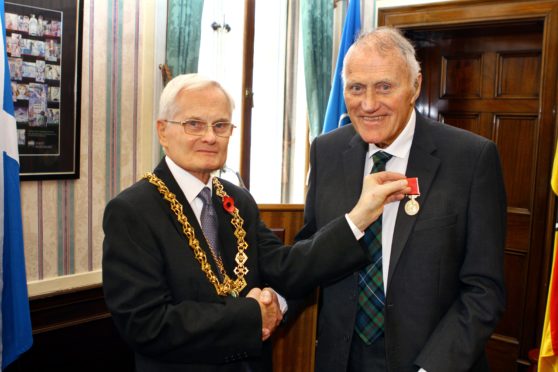 A former school teacher who "taught half of Dundee to swim" has been hospitalised with a broken neck.
Frank Jordan took a tumble at his Lochee home on Wednesday morning.
The 87-year-old was a PE teacher at Menzieshill high, teaching the pupils to swim and running its swimming team.
He also held evening classes for adults, and formed the Menzieshill Swimming and Waterpolo Club — now known as Menzieshill Whitehall Swimming and Waterpolo Club — in 1970.
Frank's daughter Karen said her dad has not suffered permanent damage and is in good spirits despite the fact he can have no visitors.
She has now launched an appeal for former pupils to send him cards to cheer him up.
To all my fb friends – my dad (Frank Jordan) is in hospital with the most serious neck injury. So – I'm on a mission -…

Posted by Karen Jordan on Friday, 26 June 2020
She said: "He had a fall at home on Wednesday morning and broke his neck. There's no damage to the spinal cord thankfully. He's in Ninewells and hopefully they will be moving him to the Royal Victoria. He'll be there a while as he's not fit to go home – he's too frail.
"He's such a popular person and would have been visited by lots of people who know him through his swimming but no one can go – I can't even visit him.
"I thought it would cheer him up if people sent him cards with their photos and memories, to help him pass the time.
"So far over 150 people have shared my post on Facebook and I've been inundated with messages. He's so well regarded – it's overwhelming.
"He's no access to social media to see how many people have been wishing him well."
She added that her dad is well-known throughout the city – and beyond – for his teaching.
"It doesn't matter where we go there will be someone there that he taught to swim," she said. "Even the nurses in the hospital know him. He's taught a large slice of Dundee to swim, that's  for sure.
"The response on social media has been incredible – it's reached all over the world. Someone messaged from Australia who had been on the swim team.
"He will be delighted that people are thinking of him."
Mr Jordan helped set a World record during his time at Menzieshill High, which is yet to be broken five decades on.
In 1974, a team of 20 swimmers cemented their place in the history books by completing a 100-mile relay in 24 hours.
They repeated the feat in 1977 and 1980 and the group has never been matched or beaten.
He received the British Empire Medal or his services to the water sports in 2018.
For details on how to send a message to Frank, contact his daughter Karen.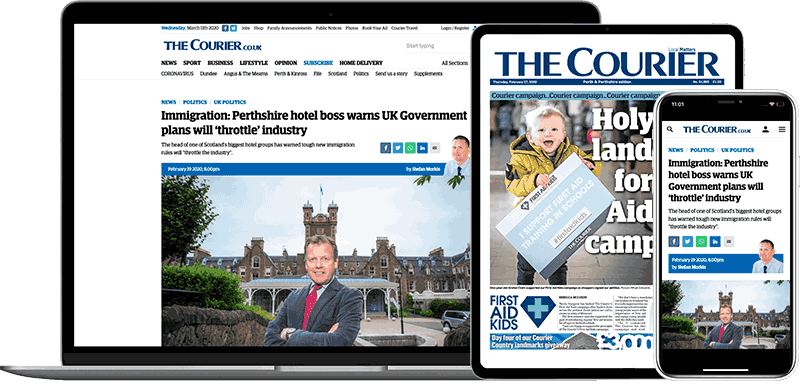 Help support quality local journalism … become a digital subscriber to The Courier
For as little as £5.99 a month you can access all of our content, including Premium articles.
Subscribe