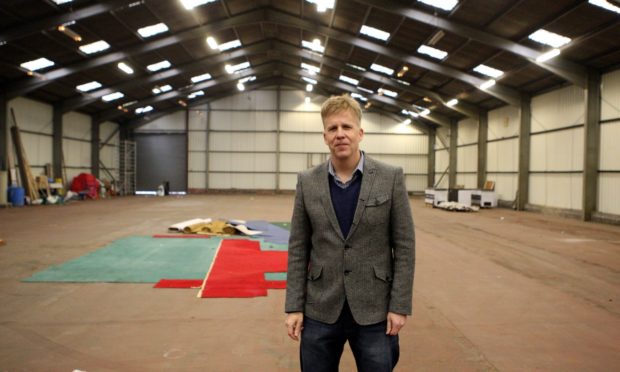 The founder of one of Dundee's most successful anti-poverty initiatives has warned of widespread social problems if organisations like his are ignored by the government.
Fergus Storrier, who set-up children's charity Showcase The Street in 2003, said social enterprises have been "at the coal face" of improving lives across the city for years but many could soon close.
Mr Storrier, who is CEO of the Dundee Social Enterprise Network (DSEN), spoke of his frustration at seeing lifeline cash being handed out elsewhere.
The Scottish Government says "urgent support" has already been given to the sector and said further cash is being made available.
"The situation cannot go on any longer," Mr Storrier said.
"The reality is that support has been offered to other sectors and we feel we are being left behind.
"Many of our member organisations have been at the coal face of supporting communities and if they cease to exist then there will be significant social problems further down the line."
Showcase The Street offers cut-price dance classes and other activities such as football and virtual reality (VR) for vulnerable young people.
It operates out of Manhattan Works in Stobswell and has helped many children struggling with poverty and other social problems.
The warning comes after the Scottish Government announced the country cannot yet move into the next stage of its route map out of lockdown due to rising coronavirus cases.
It means many of Dundee's 55 social enterprises are still prevented from operating and unable to generate income to survive.
Mr Storrier added: "If the Scottish Government wants certain activities to remain closed on a longer term basis then they need to be clear with us.
"We are being asked to sacrifice for longer with no additional support and that is unfair.
DSEN's chairman Derek Marshall also warned of dire consequences and said the lack of clarity over reopening is a "bitter blow".
He said: "Our  members provide important community services and activities and we have been closed from the beginning of lockdown with no end in sight.
"The new indicative date of October 5 means further losses of tens of thousands of pounds to organisations which is simply unsustainable.
He added: "We are entering a critical phase with furlough coming to an end and job losses will occur if there is no progress.
"We need clarity from the government and we need it soon.
"If it is deemed that our member activities could pose a public health risk then we need a parity of support that has been afforded to the arts and cultural sector."
A Scottish Government spokesperson said: "An emergency £350 million package of funding was announced earlier this year to support people and communities in responding to the challenges of the covid-19 pandemic.
"We have moved quickly to ensure that the urgent support needed was delivered to community and third sector organisations, including social enterprises, through a range of funds to address the critical needs arising from the emergency.
"We recognise the need for further support for the sector as we move from the immediate response to recovery and we announced in our Programme for Government refocusing part of the communities funding package into a £25 million Community and Third Sector Recovery Programme.
"This will include business support and investment to help organisations adapt their operations and income generation to increase sustainability and respond to the ongoing impact of the pandemic."