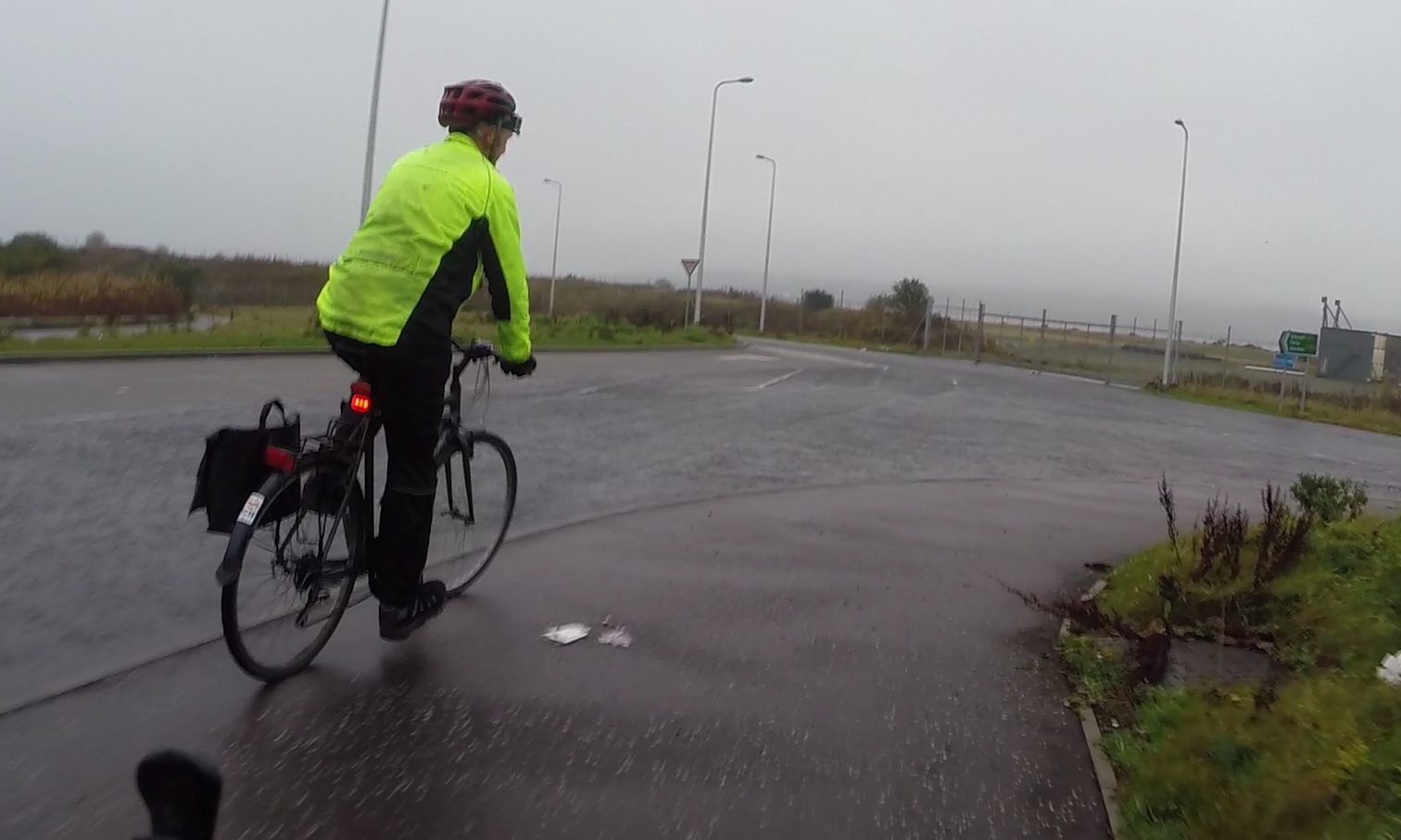 As National Cycle to Work Day returns this week in a bid to encourage more of us to consider a healthier way of commuting, Richard Rooney meets one man who made the switch to the saddle and has not looked back.
Over 36,000 people registered to take part. Over one million miles to be cycled. Over 32 million calories to be burned.
The raw stats for Cycle to Work Day 2017 on Wednesday are certainly impressive.

However, the truth is that cyclists remain very much the minority when it comes to commuting in Scotland.
While some other countries in Europe see over 50% of short journeys taken by bike, Scotland languishes at 1.5%.
With key parts of our roads network nearing gridlock, and with tackling pollution and unhealthy lifestyles also in mind, the Scottish Government has challenged councils to come up with plans to promote what they call "active travel".
In Dundee, the city council has drawn up its own cycling strategy with the aim of "getting more people cycling more often".
To find out why some people have already made the switch to the saddle, I went out for a morning cycle with local man Neil Quinney.
So why cycle?
Neil's is a fairly typical story among those you see on two wheels: he cycled as a child, drifted away from it in early adulthood when he learned to drive, and then got back into cycling as a way of cutting commuting costs, avoiding traffic delays and getting some exercise.
However, he has gone a step further than most by becoming a volunteer with the transport charity Sustrans — whose mission is to "enable people to travel by foot, bike or public transport for more of the journeys we make every day".
And while he is passionate about the financial and environmental benefits of cycling, Neil, 41, stressed his biggest motivation is the simplest and one that harks back to those childhood days: riding a bike is fun.
He says: "It's something I enjoy doing. It's a good way of getting to work. I know it will take the same time to get to work every day regardless of traffic.
"It's good exercise. It's exercise built into my daily routine — I don't need to go to the gym."
Hitting the road
We meet up near Neil's home in Douglas and take a trip into the City Square to Henry's Coffee Shop where, rather wonderfully, cyclists arriving by bike on the first Thursday of the calendar month receive a free coffee and pastry.
We've chosen a grey and wet day, and we will be following a route that mixes some of the city's busiest areas and some easygoing off-road paths that entirely bypass the rush-hour traffic delays.
Our biggest obstacle is the Scott Fyffe roundabout, where even the most experienced cyclist can feel vulnerable.
So what is Neil's advice to those who want to try cycling to work but think their route might be too dangerous?
Neil says, initially at least, the best option is often to pick a slightly longer route that avoids the more testing areas — and not to be embarrassed to get off the bike and walk past the most hazardous sections if you don't feel comfortable.
He said: "It's just about getting to know your local area.
"Taking the Scott Fyfe as an example, there are crossings and an underpass further along the Arbroath Road. So that's something somebody new to cycling could look at and say: 'This is a busy route I'm not too happy about cycling, so where's a quieter route?'"
He adds: "The council website has details of the cycle routes, the Green Circular and the traffic-free paths and there's the Dundee cycling map.
"So that's a good starting point to build up your confidence."
We make our way down Strips of Craigie Road and across another testy roundabout at Broughty Ferry Road before reaching the sanctuary of the Stannergate and the cycle path leading through Dundee docks.
Neil says this is the kind of section where the benefits of cycling are clearest. While motor traffic is starting to gridlock on East Dock Street, we're rolling along the flat and traffic-free National Cycle Network path Sustrans maintains with the help and support of Forth Ports.
Although the docks section — with its requirements to stop at gates and be ready to present ID — remains controversial for some, Neil says Sustrans and the port operators have struck up a good working relationship.
"We've done litter picks in here and dealt with the port staff, and they couldn't have been any more helpful," he said.
"I think some people get frustrated if they're having to wait at the gates. But it's a working port and the security have to deal with that first and then let the cyclists through, so I totally understand."
Weather or not?
If cycling through traffic is not too off-putting, surely our miserable weather is one reason Scotland won't ever see a significant lift in cycling rates?
Neil disagrees, and suggests our weather is really not much worse than Amsterdam or Copenhagen or other Northern European cities where cycling makes up a much larger share of total traffic.
Neil cycles right through the winter, only stopping on the very worst snow or ice days.
He said: "I tend to avoid snow — I've got a pin in my elbow from when I came off on black ice!
"But these cities get wet winters and a lot of rainfall. I've been on holiday there and it can fairly pelt down, and they get harsh winters sometimes as well.
"I don't think the weather's the issue: the reason the Netherlands and Denmark see so much cycling is that they made a decision 'right, this is what we're going for. We're a crowded country and we can't have everybody driving around in cars. There's not the room.'
"And so they made the political decision that made it happen."
He adds: "I think there's a perception that it's difficult, or it's not great in bad weather. But I don't think that's true. Once you get used to it you're fine."
Back to the future
If our councils are to succeed in getting more of their citizens choosing active travel options, a major part of that will be encouraging people to return to something many haven't tried since childhood.
So how did Neil get back into cycling?
"It's something I hadn't done for years," he says. "When we moved out to Douglas it was suddenly like 'How am I getting into work?' Because I didn't want to drive every day because I couldn't park at my work.
"So I decided to start cycling again and found myself really enjoying it.
"I started doing longer routes and while I was doing that I noticed the National Cycling Network and looked into it and saw it was Sustrans, and that's when I started volunteering with them.
"I was just so impressed with the routes that I wanted to get involved and give something back."
How can employers help?
Dundee City Council's cycling strategy recognises the role to be played by employers in supporting active travel.
The council aims to achieve cycle friendly employer status, and says it will try to encourage other employers in the city do the same and join cycle to work schemes.
Neil says relatively cheap investments can really help staff change how they get to work.
"Showers is the one a lot of people say. I think when you're getting used to cycling some people maybe do arrive at work quite sweaty.
"But the one I find more useful is somewhere to hang wet clothing. On days when your gear's wet you want somewhere to hang it.
"Our work created an area with hangers like in clothes shops. It was quite a simple solution, but it's wee things like that that can make all the difference."
Cyclists and drivers
In the age of YouTube, dashcams and helmet cams, you don't have to look far for evidence of the tensions that can build up between motorists and cyclists.
Where one side sees aggressive driving and a refusal to recognise cyclists' right to use the roads, the other sees a privileged Lycra-clad elite threatening to claim more space in our tightly-packed city centres and increase delays for drivers.
But Neil rejects the hackneyed portrayal of cyclists v drivers, and says councils committing to spending more money on improving people's travel options is to everyone's benefit.
Stressing that he — like most cyclists — also drives a car, he tells me: "Spending on cycling infrastructure is to drivers' benefit as well. Fewer cars on the road means less congestion. It makes their life easier and means they get to where they want to go sooner.
"Most journeys made are less than a mile, and you can do that walking or cycling. You don't have to take a car."
And what about the relationship between cyclists and drivers in Dundee? Is it as bad as in some of our bigger cities?
Neil says: "In terms of conflict, I'd say to everyone 'just take a step back'. We're all people just trying to get about.
"I think generally in Dundee it's fine. It's sometimes just awareness — people passing you too closely or pulling out of junctions. But I think Dundee is generally quite good-natured."
And what about cyclists? What can they do to prevent conflict?
Neil says: "You do see people not well illuminated. They've maybe not got lights on when they should do or sometimes they could be wearing brighter clothing.
"But generally the standard's pretty good."
"Give it a try"
After an incident-free pedal to the City Square, we hop off our bikes in the City Square.
Our free coffee and cake beckon, but I ask Neil to stave off the hunger pangs for a few moments longer and summarise what he'd say to anyone who is thinking about cycling to work.
He says: "Just go out and give it a try. Try using it for short journeys.
"If you're work's not that far away try cycling that and see how you get on.
"You might enjoy it and, if you do, that's great. Keep doing it!"
Useful links:
Dundee City Council cycling strategy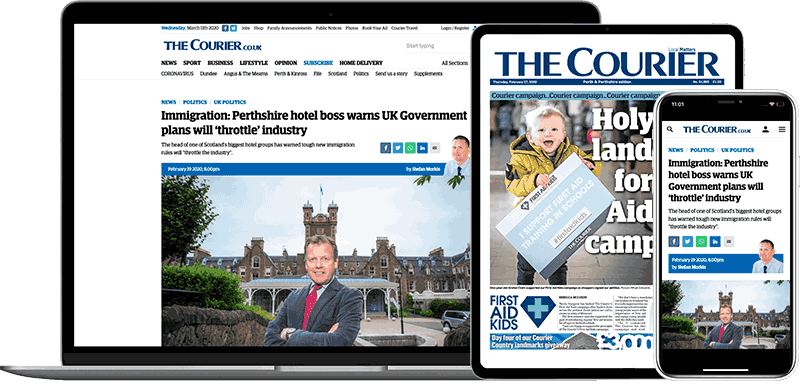 Help support quality local journalism … become a digital subscriber to The Courier
For as little as £5.99 a month you can access all of our content, including Premium articles.
Subscribe