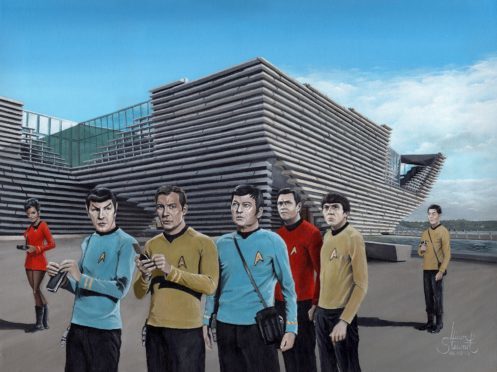 "It's a museum Jim, but not as we know it…"
Captain James T Kirk and the crew of the USS Enterprise have beamed down for a special visit to Dundee's V&A.
The original cast of the cult 1960s show took time out from their five-year mission to explore the city's newest waterfront attraction ahead of its September opening.
The man responsible for bringing the characters to the City of Discovery is blacksmith-turned-artist Liam Stewart from Arbroath.
Liam previously brought Star Wars, Transformers, Batman, the Avengers and flesh-eating zombies to Arbroath for a series of paintings which sparked two exhibitions at the town's library.
The 40-year-old's latest creation was commissioned by Ron Watson who wanted 'Star Trek at the V&A' for his sister's birthday.
Liam said: "Over the years I've been altering fire flumes and surrounds for him.
"Until my first show he had no idea I also painted.
"I was really happy with how the painting turned out, as I have to admit, painting the V&A was a challenge what with all the straight lines, angles and reflections in the windows.
"I can go on and on…it's not a straight forward building and I've actually come to appreciate its design.
"Painting the original Star Trek characters was another challenge in its own right and I'm expecting a lot of scrutiny knowing there are a lot of Trekkies out there.
"Some people may wonder why I put poor Sulu back there but I honestly felt it would be a shame to cover that section of the V&A."
Liam is also considering donating a large version of the painting to the V&A ahead of its opening.
The original Star Trek series focuses on the 23rd century adventures of Captain James T Kirk and the USS Enterprise, a powerful interstellar spacecraft dispatched by Earth-based Starfleet Command to explore the galaxy.
Kirk's five-year mission —and his mandate from Starfleet— is to seek out new life and new civilizations, and to boldly go where no man has gone before.
The series ran for just three seasons from 1966 to 1969 with a further seven movies which included members of the original cast.
"I'm sure if Star Trek ever came to the V&A, it wouldn't 'phase' them as it has that futuristic feel to it," said Liam.
"The Star Trek prints are now for sale through my Facebook page and I have to say that the commission work that has been coming in has been amazing.
"I decided not to do an exhibition this year and chill out a bit but I've never stopped and I'm absolutely delighted with how things are going."