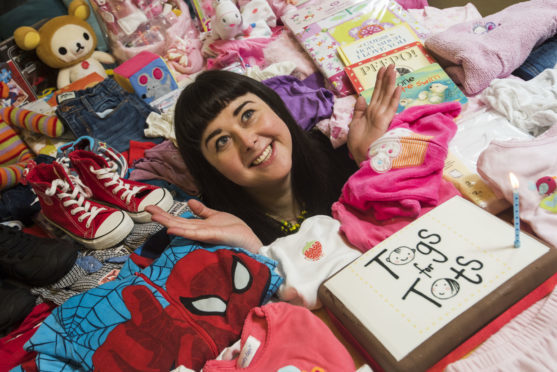 A popular and well-needed charity which supplies children with clothing is to reopen this week.
Togs For Tots To Teens, which was set up in 2015 to meet overwhelming demand for clothing in the city, was forced to temporarily close at the beginning of the year.
At the time the organisation had to stop taking physical donations, following a record number of items being handed to the group in the run up to Christmas.
They were forced to do so because of difficulties surrounding charitable status.
However, following a collaboration with local charity hub The Circle, a bridging fund from Dundee City Council and being bestowed charitable status from the Scottish regulator, the group is now able to reopen for donations.
Charity founder Jordan Butler said she was delighted the group would be able to get back to doing what it does best – helping some of the city's most vulnerable people.
"It was really terrible, having to close temporarily, especially given how brutal the winter was in February and March," she said.
"We had been gifted our last space on North Lindsay Street, which was a wonderful gesture but unfortunately it was just to big to own.
"We are only a small group and having to deal with the high overheads and worry about other, non-charity related things meant we couldn't focus on helping people.
"In the short time we were closed, lots of people continued to get in touch saying there were families and people in dire need of help, that they needed to use the service.
"Things haven't got any better in the city and I think within a couple of weeks we will be back to the numbers of referrals we were dealing with before."
The group will now be located at The Circle on Staffa Place and will be able  to start accepting donations of clothing again from this Tuesday.
Togs for Tots collects clothing for children, pregnant women, premature babies, refugees, teenagers and people awaiting benefits due to Universal Credit.