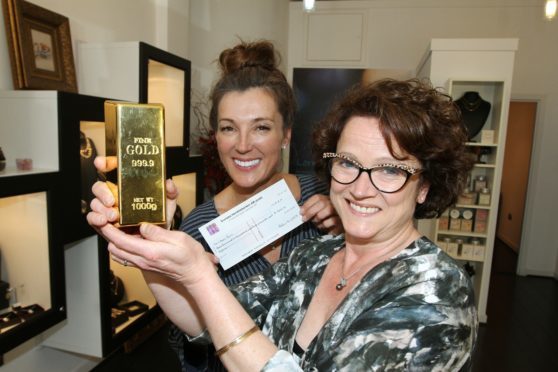 A Courier appeal for unwanted jewellery has mined an unexpected treasure for families fighting terminal illness in Tayside.
Dundee jeweller Lorraine Law presented Marie Curie patron Petra McMillan with a cheque for £7600, the profit made from melting down surplus gold and silver pieces which were donated to the charity's Magpie Appeal launched in April.
Already the charity, which provides free nursing care to the terminally ill at home, had had their coffers boosted by £4100 with the auction of a unique hand-crafted gold, diamond and pearl necklace in London last month.
Initially Marie Curie had sought to source just enough raw material to fashion one new item to be auctioned off, but the response was "huge", with more gold and silver donated than was needed.
Lorraine said: "Courier readers have been just amazing. I didn't intend to be this busy but then I really wanted to do justice to their generosity but also as a tribute to the amazing and very touching stories they shared about Marie Curie and the care their loved ones had received at the end of life.
"I hope the readers and families all across Tayside will know what a difference their kindness has made to other families who need Marie Curie right now."
A further £654 has been raised from an online competition to win a silver bracelet and  an additional five pieces are currently in production for auction for the charity later this year.
Launched in The Courier on April 9, the Marie Curie Magpie Appeal aimed to mark the 70th anniversary of the charity's inception by creating a new piece of jewellery, the sale of which would boost the charity's community nursing service.
In 1948 it was the gift of a diamond ring which kick-started Marie Curie and recently a further three engagement rings were donated.
The  necklace sold at auction in May featured one of these diamonds and six others set in the charity's distinctive golden daffodil.
The diamonds were just part of a bounty drawn from Stirlingshire to Aberdeenshire which included platinum, sapphires, emeralds, rubies and handful of antiques, including a suffragette brooch and another brooch featuring pearls from the River Tay.
Petra said,"We have all been overwhelmed by the generosity.
"With just £20 'buying' one hour of nursing care, it is easy to see the very real impact this appeal will have on families in our communities across Tayside and, on behalf of them, I'd like to thank Courier readers sincerely."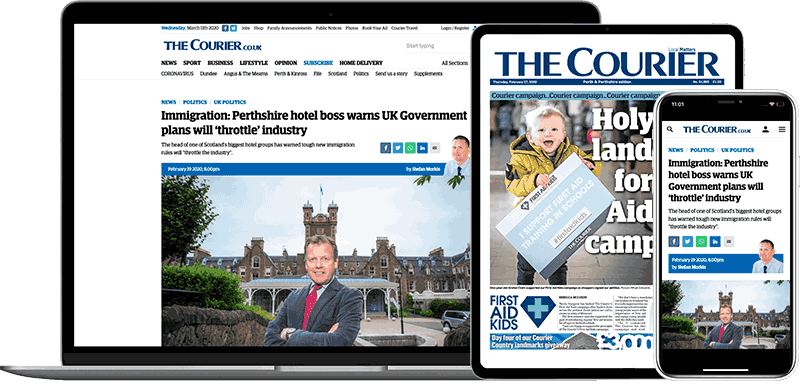 Help support quality local journalism … become a digital subscriber to The Courier
For as little as £5.99 a month you can access all of our content, including Premium articles.
Subscribe