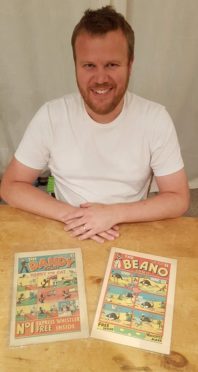 A comics trader has earned a cool £21,500 – and a new extension for his house – by selling rare first issues of The Beano and The Dandy.
Phil Shrimpton, 37, sold the two comics to separate collectors, with The Beano selling for £16,000.
The Dandy was first published in Dundee by DC Thomson and Co Ltd in 1937 with The Beano following a year after.
Phil's copy of The Beano was graded FN+, meaning it is in above-average condition with no significant creasing or other defects.
Phil, who runs a comics auction business from his home in Bassingbourne, Hertfordshire, originally tried to sell the copy on eBay for £25,000 to coincide with the comic's 80th anniversary this summer but admits the price tag was too ambitious.
He eventually accepted an offer of £16,000 for the first issue and agreed at the same time to part with his first issue of The Dandy, in even better condition, for another £5,500
Phil said: "We listed The Beano comic #1 on eBay in July to coincide with the 80th birthday celebrations, but it didn't sell – we admit it was an ambitious price.
"Following the auction a lifelong collector/comic fan and regular customer of ours approached us after and offered £16,000 for the FN+ example, which we were very happy to accept."
There are few copies of the first issue of The Beano still in existence and a copy in mint condition would fetch well over £20,000 at auction.
The comic sold for just 2p in 1938 and came with a free "whoopee mask" gift.
Big Eggo was The Beano's first cover start while Korky  the Cat took pride of place on The Dandy's premiere issue.
Phil added: "In recent months another collector had asked if we would part with our #1 Dandy comic and, given that The Beano was due to go, we decided to part with the Dandy too and a price of £5,500 was agreed for the VG example. "
Phil added: "The collector has intentions to exhibit it at the V&A museum in 2019, alongside his Beano #1 for people to appreciate these two well-loved and classic British comics.
"It was sad to see them go but great to meet the two collectors as we personally delivered them on Saturday. Running an online business means it's not often that we meet collectors and so it was very enjoyable to chat all things comics.
"It's reassuring to know that the two #1 comics are going to reside in well loved collections and The Dandy may be put on public display."
The lifelong comics collector added: "The funds will make a large contribution to a proposed extension to our house which will better accommodate our vintage comic auction business, so with an element of reluctance in selling, it's quite fitting that they were sold to fund a cause within comics."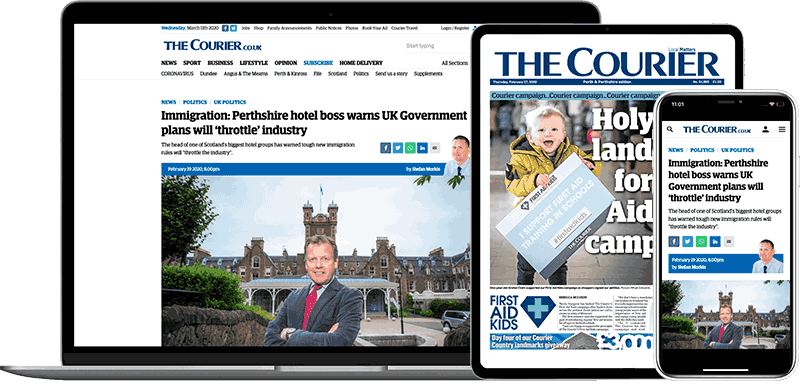 Help support quality local journalism … become a digital subscriber to The Courier
For as little as £5.99 a month you can access all of our content, including Premium articles.
Subscribe