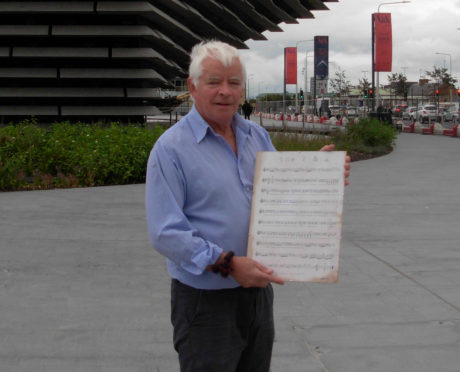 An award-winning Tayside song writer has immortalised the opening of the V&A Dundee in the style of his favourite poet William Topaz McGonagall.
Perth-born Eddie Cairney, 66, of Arbroath, who immortalised the 50th anniversary of the Tay Road Bridge in music in 2016 and similarly honoured the opening of the Queensferry Crossing last year, has penned and recorded a song called The V&A in which he expresses his hope for the future success of the project.
He hopes to present a signed copy of the manuscript to the The V&A to mark its opening and create a formal link between Queen Victoria, William McGonagall, Dundee and the museum.
In 1999, McGonagall fan Eddie had the idea of organising a festival to celebrate the death of William McGonagall in 1902.
With the cooperation of Dundee City Council and local groups he organised The William McGonagall Centenary Festival which took place in several venues in September 2002.
William McGonagall, who, 116 years after his death, has the unfortunate reputation of being the world's worst poet, is part of Dundee's folklore.
However, Eddie tends not to go along with him being a "bad poet".
Instead he takes the view that poetry, as with all forms of art, is purely subjective.
Eddie told The Courier: "There are only two types of poetry in the world, poetry you like and poetry you don't like and that varies from person to person.
---
>> Keep up to date with the latest news with The Courier newsletter
---
"William McGonagall was in his element when he was writing about morality, and big occasions and landmarks of history.
"If he was around today he would have had a poem out about the V&A.
"He doesn't seem to have been the type of person that agonised over the technical proficiency of his poetry, he just liked to get it down on paper and on to the next one.
"In fairness he was a performance artist and by all accounts his poetry worked on stage if not always on paper."
Eddie added that McGonagall was a great fan of his "most beautiful to be seen" Queen Victoria.
Eddie, who wrote the 1984 New Zealand Olympic anthem, added: "He walked all the way from Dundee to Balmoral convinced that she would give him an audience and make him Poet Lauriat but of course it didn't happen.
"Very much with McGonagall in mind I have written The V & A in the style of William McGonagall."
Eddie is no stranger to music and song influenced by Dundee and wider Scottish history.
The former Perth High School pupil wrote the 1984 New Zealand Olympic anthem and in 2015 he featured in The Courier for his efforts to put the complete works of Robert Burns to music.
LYRICS
The V&A by Eddie Cairney
All hail to the V & A
Which will be coming to Dundee
In the future not very far away
And your beautiful design which I am sure
Will no doubt the good people of Dundee lure
With your rooms filled with treasure
Most magnificent to be seen
Which Queen Victoria would surely not demean
And your setting on the banks of the Silvery Tay
Will cause people to stop and look in dismay
And when your doors are opened on the opening day
I do so hope and pray
That you will not drift away and end up in Invergowrie Bay
For that would be most awful to be seen
By people out walking on the Magdalene Green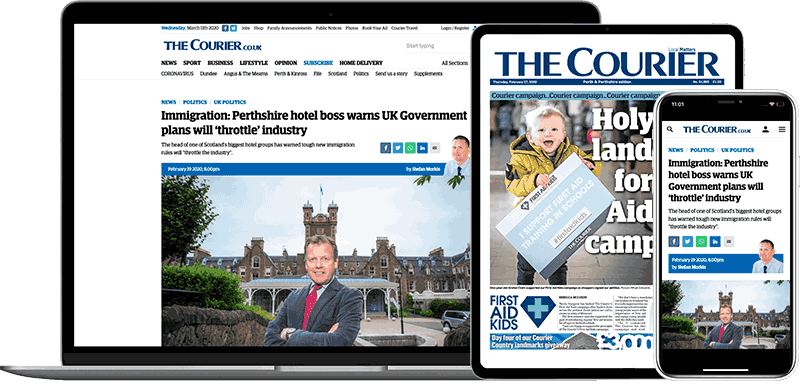 Help support quality local journalism … become a digital subscriber to The Courier
For as little as £5.99 a month you can access all of our content, including Premium articles.
Subscribe