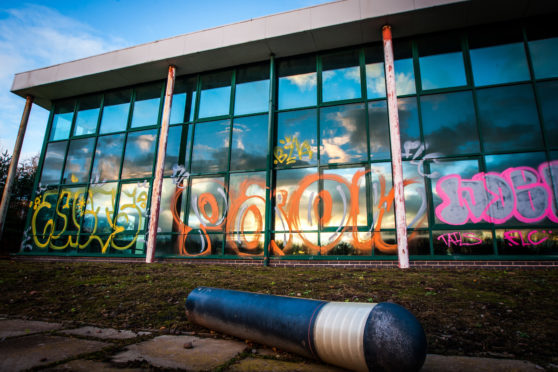 An eyesore building in Dundee could get a "new lease of life" if funding can be found to turn it into a rehabilitation gym.
The block at Luna Place in the city's Technology Park is covered in graffiti, with broken windows and rubbish giving it such a derelict appearance councillors were pushing for legal action to force the owner to clean it up.
Dundee woman Valerie Duguid hopes to transform the neglected space, which is on a key city route, into a gym for people recovering from serious illnesses such as cancer and stroke.
She needs £450,000 to launch the facility – called Gymology – and is appealing to businesses and various organisations to help with funding.
Valerie, who already runs therapeutic exercise classes around Tayside with the help of volunteers, said: "We got some funding last year and we have planned everything, right down to the logo for Gymology.
"However, we need a total of £450,000 to get the gym open.
"We are looking at taking on the building that's been such an eyesore and turning it into something amazing.
"This won't just be a gym but a training facility, where we will train fitness instructors to work with people with chronic illnesses.
"We really need the people of Dundee, as well as businesses and organisations to get behind us."
As well as gym equipment, the facility will have therapeutic artwork and a social enterprise cafe.
Valerie hopes to apply for further funding from the Scottish government and has been invited to attend a networking event at the Scottish Parliament on Thursday, where she will present her idea.
Gymology already has a "shop front" at the David Lloyd gym in Monifieth and a Facebook page  where interested parties can find out more information and follow the project's development.
West End Community Council chairman Peter Menzies welcomed the plans.
He said: "It is absolutely fantastic news that this project could move into Technology Park and I'm hoping the people of Dundee will rally around this.
"If the building is in use that will alleviate the vandalism problems and we're behind this 100 per cent."