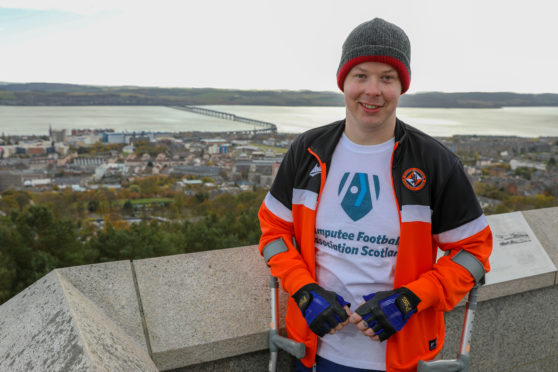 A Dundee amputee footballer has smashed his fundraising target for a cause close to his heart after doing a five mile sponsored walk.
Robert Wilson, along with an entourage of around 50 friends and family members, walked over the Tay Bridge, up Dundee Law and back down again, finishing at Bridgeview Restaurant on Saturday.
He has raised at least £700 and counting, after originally aiming for £500, which will go towards the Amputee Football Association Scotland (AFAS).
Robert, 29, lost one of his legs when he was just a few months old due to severe "club foot", but has never let his disability hold him back.
He said: "I've been playing five asides since I can remember, but it was two years ago I started playing amputee football, where you're not allowed to use a prosthetic leg.
"You have to use crutches, which is quite a big adjustment, as it puts a lot of strain on your upper body.
"That's what I felt when I was doing the walk — a lot of pressure on my shoulders, arms and hands.
"By the end, every step was causing my body stress, but I managed to finish the whole walk. We started at about 11am and finished at around 3.30pm.
"I'm over the moon about it. I put a lot of training in over the past few weeks, only having around three days rest."
Northern Ireland manager and former Dundee United player Michael O'Neill threw his support behind Robert's endeavour by urging people to support his cause.
He previously said he had been impressed by the level of skill, effort and commitment the amputee players displayed.
Robert added: "It is such a good cause and I'm 100% glad I did this.
"I'd like to thank everyone who donated and joined me on the day. Without them I probably wouldn't have finished the walk."