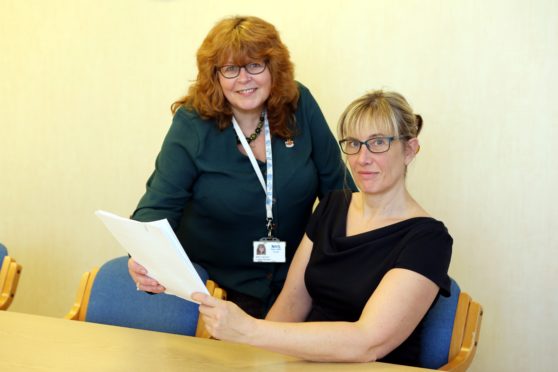 New streamlined home care services in Dundee are helping to reduce "traumatic" experiences in hospital for older patients, according to health chiefs.
Early Intervention and Enhanced Community Support seeks to reduce the number of older people being admitted to hospital when they could otherwise be treated in a more "safe and robust" environment at home.
The new measures, led by the Dundee Health and Social Care Partnership are, in part, being introduced to tackle the number of delayed transfers in hospitals — referred to as 'bed-blocking'.
The situation has been, in large part, created by the UK's ageing population, which is putting an immense strain on the country's health services.
The 'person-centred' support can be anything from befriending and providing meals to providing acute support to those who are unwell.
Jenny Hill, one of four locality managers for the partnership, which combines services by both the council and NHS, said hospitals can often be the wrong option for older patients.
She said: "Senior consultants and medical staff are able to go out and do it.
"It's not quite a hospital at home but they're able to support people at home.
"Admission can be quite a harmful experience for an older person, although they'll need to be in sometimes if they're acutely unwell.
"But if you can access the same services needed from home, that could be a safer, more robust, alternative."
The service has so far supported around 135 people since being launched in January this year.
As well as preventing hospital visits, the service also cares for patients post-admission.
Those involved in the care are called 'multi disciplinary teams' and include voluntary and independent carers, as well as nurses and consultants.
She added: "It has been really successful.
"Somewhere like Ninewells Hospital can be a very chaotic environment for these people.
"If you're older and a bit more confused it can be really traumatic environment to be in.
"It could end up in a poorer longer term outcome."
The service is just part of a new model being delivered by the partnership, which was established following a national drive to bring council services and health services closer together.
The changes, as well as reducing hospital admissions, also mean a shift away from visiting a GP in the first instance.
Ms Hill added: "In the past, things tended to wait until you got a bit worse and when things were in a crisis, everything would kick into action.
"You'd end up in a hospital situation and you'd have access to a whole range of things at that point.
"We're trying to completely rework the way that we do things to become much more about prevention.
"Your GP is not always the right person to see.
"You can now go directly to your community physio for example and it will be addressed much more quickly without having to go through your GP."
Beth Hamilton, a fellow locality manager for the partnership, added: "A lot of the stress (from admissions) is not just for the individual.
"It's for the carers and for the families too."