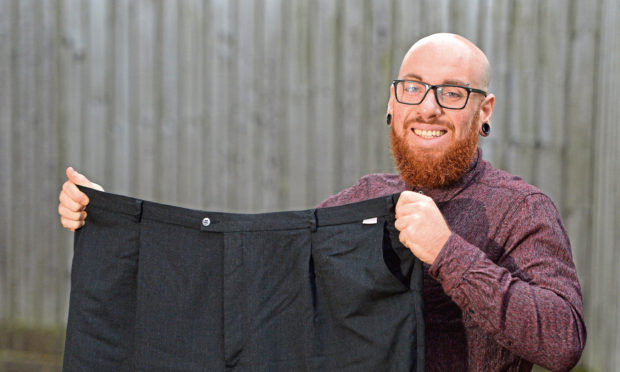 A morbidly obese Dundee bus driver who ate his way to almost 26st has shed half his body weight – after being told he was killing himself by doctors.
Iain McLeod tipped the scales at a whopping 25st 12lbs after gorging on cheese sandwiches, pasta, packets of crisps and sugary drinks.
His weight spiralled out of control as the result of his high-carb diet and got even worse when he gave up drinking and kicked his drug addiction four years ago.
But the 32-year-old decided enough was enough when he went to get fitted for a new work uniform and was told he would need 50-inch waist trousers and a 4XL top.
Now Iain, who has adopted a vegan diet, has slimmed down to 13st.
The father-of-two is half the man he used to be, now wearing medium sized T-shirts, and has taken more than 16 inches off his waist.
And Iain, who lives in Dundee with fiancee Jemma Ward, 29, an early years educator, son Connor, 12, and daughter Lily, nine, says he has even dropped a shoe size from 11 to 10.
He said: "I have been up and down with my weight my whole life.
"But when I almost reached 26st I knew there was an underlying issue that I had to deal with.
"The doctor told me I would be lucky to last another 10 years if I didn't lose the weight. He just said if you keep going you won't make it – I was killing myself.
"After three months of intense counselling and a complete emotional overhaul, I was able to reset my mindset and emotions.
"I was able to finally love myself and change my life and lose the weight.
"That was the building blocks and foundation to achieving this goal.
"Now I can be the man and father I always knew I was."
Now Iain starts his day with porridge, has a salad for lunch and eats a whopping 15 portions of fruit and veg a day.
The impressive dad, who has lost the weight without any help, hits the gym three days a week after years of doing no exercise.
He said: "After 8pm I don't eat at all, even if I am working a late shift, I am in a routine with it now.
"Before, I didn't even eat any fruit or veg, and I didn't exercise at all, but now I eat between 10 and 15 portions and go to the gym at least three times a week and work out at home.
"If you want something bad enough you won't make excuses, you'll find a way to fit it in."