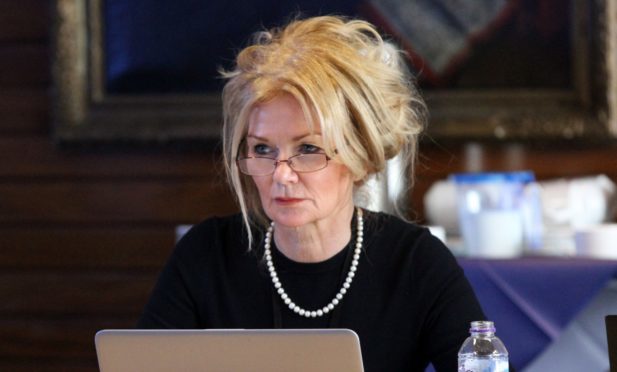 Health chiefs in Tayside have apologised for a series of errors in the payoff to disgraced former chief executive Lesley McLay.
Ms McLay, who presided over a calamitous tenure as NHS Tayside's most senior official, received £32,000 more than she was due after the health board decided to double her notice period to six months when she was no longer in the role.
NHS Tayside also mistakenly handed Ms McLay £19,135 in pensions contributions that Audit Scotland later said should not have been paid. The health board confirmed it has now recovered the full amount.
Chairman John Brown will appear in front of the public audit committee at Holyrood on Thursday to respond to the Auditor General's 2017/18 audit of NHS Tayside and provide an update on the health board's finances.
He said: "We have publicly acknowledged that there were two errors in the process of reaching that contractual settlement and the board has apologised for these.
"The first was the failure to refer the decision to change the former chief executive's notice period to the board's remuneration committee prior to it being included in the settlement agreement. This was remedied last year.
"The second relates to a contribution made to the NHS Scotland pension scheme, mistakenly intended to cover the notice period, and I can confirm that we have recovered the pension contribution in full."
Ms McLay, a former nurse who took the top post five years ago, was ousted as chief executive in April after ministers lost patience with the board's worsening finances and a string of financial scandals.
Fearing a legal challenge, executives agreed during exit negotiations with Ms McLay to extend her notice period to six months, which was based on the incorrect belief her original contract was not comparable with other CEOs.
Lesley McLay's £90,000 exit package was 'good value' for the taxpayer, says outgoing NHS Scotland chief
The move was only approved by the remuneration committee in November, several months after she left the organisation in July.
Mr Brown, who will be joined by senior colleagues and Malcolm Wright, chief executive of the health board from April to December last year, will tell the public audit committee there have been signs of improvement in NHS Tayside's financial situation.
The board forecasts an increased deficit of £22.3 million in March 2019, due to the £3.6 million repayment of misused 2013/14 endowment funds last week, along with the managed and planned reduction of earmarked slippage.
However, bosses say the monthly overspend is down by more than 20% from £1.9m in the first quarter of the financial year to an average of £1.5m in the second and third quarters.
Efficiency savings, predicted to amount to £32.2 million in 2018/19, have been made through a reduction in the use of agency nursing staff, efficiency and productivity improvements in both elective care and unscheduled care, along with other measures.
Mr Brown paid tribute to staff for their role in the turnaround.
He said: "There is still further work to do and I know staff are determined to make further improvements, but we are demonstrating a level of financial stability and sustainability which has not been possible over the past few years."