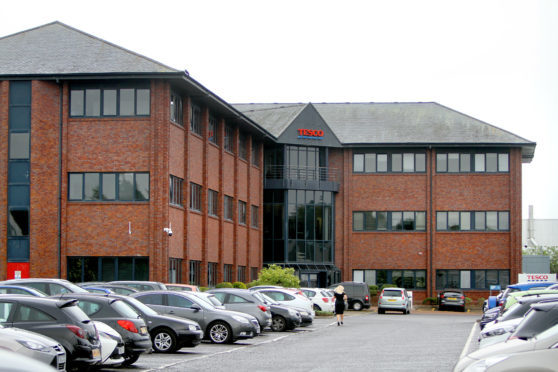 Union bosses feel most of the 88 Tesco jobs at threat in Dundee will be saved after a first round of talks with the supermarket giant.
It was revealed this week nearly 90 staff at the city's customer contact centre are at threat of redundancy.
In total Tesco is looking to shed 9,000 roles nationally as it seeks to simplify its business.
There is no regional breakdown of the figures but Usdaw union bosses claim 88 staff in Dundee could be affected.
Union reps met with Tesco on Thursday for a first day of consultation to try to save as many of thejobs as possible.
Jack Faulds, area organiser for Usdaw, took part in the talks. He said: "I believe that the talks were positive but there is still a bit to go.
"Eighty-eight people are involved in this process but my expectation is that there will be very few redundancies in the end.
"It is still very early days but we managed to resolve some of the issues yesterday and we need to examine what we were told by the company.
"There are four union reps on site and they will support our members.
"There is another meeting next Wednesday with Tesco. There will be as many meetings as it takes."
Mr Faulds added possible voluntary redundancies had not been considered.
The move comes just three months after Tesco created 200 jobs at the Dundee centre and gave 200 workers on temporary contracts there full-time roles.
Tesco also employs 1,300 staff in its stores across Dundee and Tayside.
A statement by the store claims up to half of the 9,000 staff affected are expected to be re-employed to other customer-facing roles.
The job threats come as Tesco proposes several schemes.
It wants to change stock control methods to significantly reduce workload and the time needed to do it so staff can interact with customers more.
It has also been stated that 90 stores will close their counters with the other 700 having full or flexible counter service.
Jason Tarry, Tesco chief executive officer in the UK and Republic of Ireland, said: "We're making changes to our UK stores and head office to simplify what we do and how we do it, so we're better able to meet the needs of our customers.
"This will impact some of our colleagues and our commitment is to minimise this as much as possible and support our colleagues throughout."